15th Anniversary Edition of new Harvest Moon for Nintendo 3DS to come with a 12-inch cow plushie
| September 28th, 2012 |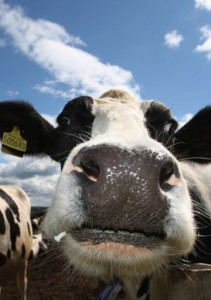 If you were a Harvest Moon fan back in the day but got lured away from the franchise after coming across Zynga's Farmville, now seems like the best time to snap out of the spell and return to the brand that first put you in the shoes of a farmer.
Continuing its Celebrations of the 15th anniversary of Harvest Moon in the North American region with PlayStation Classic releases and announcement of a brand new title in the franchise for Nintendo's portable device 3DS, Harvest Moon: A New Beginning, which is scheduled to hit the market on November 6, Natsume Inc. has announced a 15th Anniversary Edition of the upcoming Harvest Moon game.
While pre-ordering the previously announced version of Harvest Moon: A New Beginning through GameStop or the publisher's official online store will allow the fans to get their hands on an extremely cute Yak plushie, fans who pre-order the 15th Anniversary Edition of the game through the official online store of Natsume Inc. will receive an even cuter and cuddlier 12-inch cow.
Commenting on the franchise that has established itself as one of the best in the genre, the president and CEO at Natsume Inc. Hiro Maekawa said that ever since the announcement of a new Harvest Moon game in May, the fans had been anxiously waiting to know when the game would finally release.
He went on to add that the way the game had evolved over the years was nothing short of amazing and had the company really excited.
Maekawa said that the company had received a superb response from the fans since making the Harvest Moon classics available on the PlayStation Network and Vita.
Furthermore, he conceded that everyone at Natsume was taken aback by the amount of love the fans still have for the franchise, surprising them with the large amount of pre-orders that were placed for the 15th Anniversary Edition of Harvest Moon: A New Beginning.
"We're so pleased to present many of our classic Harvest Moon titles on the PlayStation Network, Vita, and the Nintendo 3DS eShop throughout 2012. Whether you've played our full Harvest Moon library before or are a newcomer to the series, it's amazing to look back and see how Harvest Moon has evolved over the last 15 years," said Maekawa. "It's even more thrilling for us to see how popular the series is today – pre-orders for the Anniversary Edition of Harvest Moon: A New Beginning have been incredible!"
The normal version of Harvest Moon: A New Beginning that comes bundled with a Yak is currently being advertised at $39.99, whereas the 15th Anniversary Edition of the game that comes with the coveted cow is being advertised at a slightly higher price of $49.99.