40-hour Diablo III session results in death of teenager in Taiwan
| July 20th, 2012 |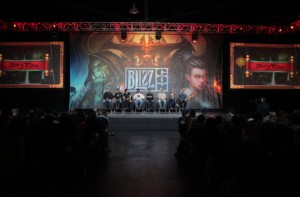 Too much of anything can prove harmful and that is exactly what has transpired in a Tainan, Taiwan, as a man identified by his surname of Chuang collapsed and died after a 40-hour gaming session of Diablo 3 on Sunday, July 15.
According to reports, the 18-year-old man booked a private room in an internet café on Friday afternoon. He did not emerge from the room for the next two days. Hunger and the need to breathe fresh air was apparently forgotten as he busied himself with the slaying of minions in the action role-playing game (RPG) developed by Blizzard.
Two days later on Sunday morning, one of the attendants at the café went in to check on the teen in his room. Chuang was found resting on the table in front of the computer screen, apparently too tired to continue his marathon gaming session and succumbing to sleep.
After being roused by the attendant, Chuang only remained conscious for a while before collapsing. He was rushed to the hospital, where he was pronounced death shortly afterwards.
While the exact cause of his demise has not been confirmed yet, the police say that in their opinion, the man died because of remaining physically inactive for a long stretch, which consequently created cardiovascular problems.
Upon receiving news of the death of Chuang because of immersing himself in a marathon gaming session of Diablo 3, Blizzard expressed its grief and extended its condolences to the Taiwanese man's family and friends.
"We're saddened to hear this news, and our thoughts are with his family and friends during this difficult time. We don't feel it would be appropriate for us to comment further without knowing all of the circumstances involved," commented Blizzard.
The America-based developer and publisher went on stress on the importance of giving priority to day-to-day life over entertainment activities.
"While we recognize that it's ultimately up to each individual or their parent or guardian to determine playing habits, we feel that moderation is clearly important, and that a person's day-to-day life should take precedence over any form of entertainment."
This is not the first time that a tragedy has occurred because of a marathon gaming session. In 2005, a 28-year-old man died in South Korea after a 50-hour gaming session. In 2007, a 30-year-old man died in Guangzhou, China, following a three-day gaming session. Earlier this year in February, a man died of a heart-attack after indulging in a gaming session for 23 hours straight. These are only a few of the tragedies due to over-indulgence in gaming.
It is indeed the responsibility of parents and guardians to ensure that gaming does not reach the point of addiction. However, it is also important to educate the gamers about the harm in letting gaming take precedence over other activities.