5 cars confirmed for Gran Turismo 6 at 10th annual GT Awards
| November 11th, 2012 |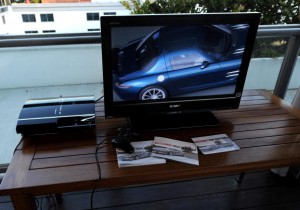 Kaz Yamauchi handed out five awards at this year's SEMA show in Las Vegas and as is tradition, the winners will feature in the next Gran Turismo game. The highlight was the sublime David Eckert's Ford Mach 40.
For petrol heads who like their racing games done simulator rather than arcade, there really is nowhere else to go but Polyphony Digital's Gran Turismo series.
The latest game celebrates its second-anniversary this month. Gran Turismo 5 was released in November 2010 and two years on it is still going strong as it ended the year as one of the top ten best-selling games in Europe.
The series has also sold over 67-million units since its release all the way back on the PlayStation One. There has been plenty of speculation surrounding the next entry in the series, which Kaz Yamauchi, the game's creator, has confirmed is already in development.
Analysts and experts predict that the next game in the Gran Turismo series will most likely be released on the PlayStation 4 and there is a fair bit of evidence to support the case. Especially the fact that Yamauchi admitted that they were ready for the next-gen when releasing Gran Turismo 5.
However, one tradition of the Gran Turismo series is bringing real-life authentic cars to the game and one of the special treats is how Yamauchi, a car enthusiast in every sense of the word, hands out the Gran Turismo awards at every SEMA event.
The winners of each respective award get to see their cars digitally recreated in pain-staking detail and put into the next Gran Turismo game. It seems that the 2012 entries are in:
Best Truck or SUV: Antron Brown's Family Dragster Toyota Sequoia
Best Domestic Automobile: 2014 Ford Mustang GT RTR Spec 3
Best Asian Import: 2013 Scion FR-S Evasive Motorsports
Best European Import: 2013 Volkswagen Turbo Beetle.
Best Hot Rod and Car of Show: David Eckert's Ford Mach 40
The Car of Show was described as:
"David Eckert and his team created a one-of-a-kind combination by taking advantage of the unique Mustang Mach 1 styling and complementing it with a massive 2006 Ford GT V8 5.4 liter dry sump unit with a four-liter Whipple supercharger, resulting in a healthy 600 to 850 horsepower masterpiece modulated by a custom designed "adjustable HP dial."
There has still been no official confirmation on when Gran Turismo 6 will be released or even revealed but Yamauchi confirmed that the studio was well into development and that it would be revealed when the time was right.
So do the awards make you want to drive around a few more laps in Gran Turismo 5? Let us know in the comments section below.
Other People Are Reading