A PlayStation 3 and PlayStation Vita bundle for Christmas?
| October 2nd, 2012 |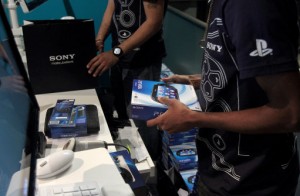 Fergal Gara, the President of PlayStation UK, hinted towards the possibility of a PlayStation 3 and Vita bundle being released this holiday season, although there is no official confirmation from Sony as of yet.
Sony recently announced a brand new PlayStation 3 model. The Super Slim PlayStation 3 is the third incarnation of the console and is retailing at the lowest price since its release, at least, in terms of memory offered to price ratio. The console also has another 12GB model on the way as well.
At the same time, Sony also released the PlayStation Vita in a number of territories in February this year to praise regarding the console's technology and criticism surrounding its lower than expected sales.
Sony's plan of action in order to boost the Vita's sales is based around making more content available on the console for players to be able to play and to potentially attract consumers.
The PlayStation Vita also has the ability to interact with the PlayStation 3 console in a number of ways, including the Remote Play feature, however, Sony never seems to have promoted this feature as much as many believe they should.
That is until, Fergal Gara, the head of PlayStation's UK division, responded to questions in a recent interview with CVG.
When asked if the two consoles could be bundled up together, Gara responded, "We'd have nothing against that whatsoever. And it's not out of the question that we would do that this Christmas if we wanted to."
It seems he already had a good idea of how Sony would promote the bundle, which has one suspicious as to whether Sony actually has plans in place for to put the Vita and PlayStation 3 together in one package. Gara said, "We put together packages for retail, and there's no reason why we shouldn't create 'Vita plus PS3' bundle, which could feature games that use cross-play, as well as include a PlayStation Plus subscription that both devices could use."
Christmas would be the perfect time to release the bundle, if there is one as the holiday season rush is the most hectic time of year in terms of sales for the interactive entertainment industry for both hardware and software.
It will be interesting to see if Sony do end up announcing the bundle or whether Gara was using the interview as a platform to pitch his idea and gain some publicity for the PlayStation Brand.
In fact, a Vita plus PlayStation 3 bundle, with the right content could even pose a threat to the Nintendo Wii U, as Sony's consoles could potentially combine to provide gamers with a dual screen gaming experience.
We will have more on the story as and when it breaks.
Other People Are Reading