Act I and Level 13 cap lifted for new digital buyers of Diablo III
| June 29th, 2012 |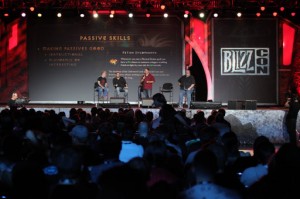 Blizzard has relaxed the restrictions on digital purchasers of Diablo III, allowing the players to finally progress beyond Act I and also find themselves released from the Level 13 cap.
The latest title in the Diablo franchise still has plenty of security measures in place to keep new players from experiencing the complete features of the game until their payment is verified, which can take from a few hours to as much as three days.
Unverified digital purchasers of Diablo III will continue to find themselves without an access to the real-money auction house. They would neither be allowed to trade items nor chat in private or public channels. The new players will not be able to change their server region either, thus imposing a restriction on global play.
Blizzard contends that keeping unverified players under such restrictions is essential to minimise fraud and curtail malicious activities, both of which can ruin an overall online experience for other gamers as well.
Intending to incorporate these security protocols into Diablo III, Blizzard launched patch 1.0.3 for the game on June 20. Much to their surprise and shock of new digital purchasers, the patch introduced a couple of unintended restrictions.
Forums immediately began to fill up with gamers complaining about finding themselves trapped in Act I and their characters subjected to a Level 13 cap for up to three days in the worst case scenario.
The American developer was quick to take notice of the issue that had emerged and immediately came out to clarify that the Act I and Level 13 cap was not part of their security plan.
Working around the clock to resolve the problem, Blizzard finally released 1.0.3a. The new patch removed the two unintentional restrictions placed on players who had recently gotten their hands on a copy of Diablo III through a digital channel, while keeping the rest of the restrictions intact.
The measures taken by the Blizzard have been met with strong criticism. Analysts believe keeping players from accessing the full features of the game is causing a huge inconvenience and discouraging the purchase of the game through digital channel. They also contended that considering the amount of time the developer had spent on Diablo III before finally releasing it, it should have done a better job with the security measures.
Despite a positive response to Diablo III, Blizzard has found itself surrounded by a number of controversies and challenges, ranging from a patch that introduced unwarranted restrictions to a nightmare of a launch in South Korea that led to its offices in the region getting raided by Fair Trade Commission before agreeing to offer refunds to the affected gamers in the region.
Now that the developer has launched a new patch to resolve the progress beyond Act I restriction and Level 13 cap issue, hopefully it would manage to keep itself from getting caught amidst another controversy in the near future.