Activision CEO firmly against a Call of Duty film
| December 18th, 2012 |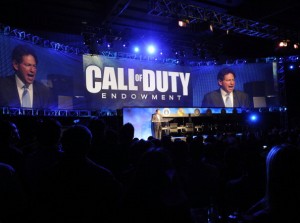 Activision boss has no plans of turning the highly-acclaimed first-person shooter franchise into a Hollywood film, fearing it "could taint the brand."
The wall separating the video game industry from the film industry has become thinner than ever in recent years, with more and more of the publishers showing interest in bringing their games to the silver screen.
All it takes is one look at look at the Call of Duty franchise to realise its huge potential for making it big in Hollywood, but the man with the power to decide if the game should be given a chance at the big screen does not seem to keen on taking any chances.
According to a profile for the New York Times, Activision CEO Bobby Kotick conceded that he has been approached by a number of movie studios, who are interested in a film adaptation of the popular first-person shooter video game series.
However, he turned down every single of these offers because he feels that there is a huge risk of ending up disappointing the fans with a Call of Duty film.
Kotick pointed out that majority of the film adaptations of renowned video game franchises with a massive fan following ended up delivering quite an unsatisfactory experience.
Intending to make sure that the devoted fans of the Call of Duty franchise do not end up getting disappointed, it is best to avoid a film adaptation.
He further went on to add that an unpleasing conversion of the game to a Hollywood film also poses a huge risk to the reputation of the brand, which the company has worked so hard to build over the years.
In order to keep the fans happy and the brand healthy, the Activision head plans on keeping the Call of Duty franchise out of Hollywood.
The cautious attitude of Kotick towards his beloved brand hardly comes off as a surprise, since the film adaptation of video game franchises have not gone great in the past.
Even the likes of Tekken and King of Fighters franchises, which had a pretty strong story running in the background through the series, failed to retain their entertainment value once they came to the big screen.
Ubisoft is one of the many publishers that have already experienced the horrors of converting a popular brand into a Hollywood film. The Prince of Persia film by Disney was one of the most forgettable experiences of the year.
That, however, has not deterred the hopes of Ubisoft to successfully convert its renowned franchises into blockbuster films, with the publisher announcing its plans to make an Assassin's Creed film, as well as bringing the Tom Clancy's Splinter Cell brand to the silver screen.