Activision confirms Amazing Spider-Man to arrive six weeks later on PC
| June 29th, 2012 |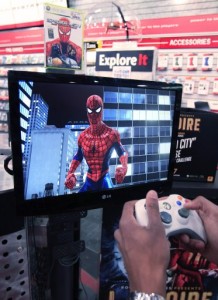 It has been confirmed by Activision that the new Amazing Spider-Man game is slated for release on PC on August 10, 2012.
The publisher gave no explanation as to why there was a six weeks delay in the game's release on Windows even though it has already been launched for PlayStation 3, Xbox 360, Nintendo 3DS, Nintendo DS, Nintendo Wii, iOS and Android platform in both North America and Europe last week.
It has also been confirmed that the PC users will be able to download the game through Steam, Valve's digital distribution platform, where it will also have support for Steam Achievements such as spiders in your slippers.
Published by Activision and developed by Beenox, the same team who brought us Spider-Man: Shattered Dimension and Spider-Man: Edge of Time, the Amazing Spider-Man is a tie-in to the recently released Spider-Man film that goes by the same name. The web-slinging and tremendously acrobatic marvel superhero has returned in his latest third-person open world action-adventure game to save the day once again as Manhattan finds itself run down by a swarm of escaped cross-species experiments, created by using the research of Dr. Curt Connors.
The game also features the return of the prominent villains from the franchise, including Rhino, Iguana, Vermin, Scorpion, Felicia Hardy and the Lizard.
The trailers and gameplay videos of the new Spider-Man game received a pretty good response from the fans and critics. In an article published in Eurogamer during March earlier this year, Christian Donlan was all praises for the latest product by Activision.
"Two games in, and the developer's understanding of the Marvel universe is no longer in doubt. Two games in and open-world fans are finally getting the game they've been asking for," he wrote.
The expectations from the Amazing Spider-Man are quite high, a fact that became apparent after people began to compare it with Rocksteady's Batman: Arkham City, a game that was nothing short of epic in every sense of the word.
While it does come as a surprise to find a Spider-Man game being compared with the likes of Batman, the comparison appears to be pretty much on merit after taking a look at the Amazing Spider-Man game. Activision and Beenox seem to have done a pretty good job with retaining the fun elements of the game while getting rid of the elements that kept the previous Spider-Man titles from making a solid impact. The graphics have improved, naturally, while the gameplay looks much more fun than before, with some people comparing it with that of Radical Entertainment's Prototype, also published by Activision.
After a pretty disappointing experience with the previous Spider-Man games, the cautious attitude of gamers towards Amazing Spider-Man is quite understandable. However, the game promises to be much more fulfilling than its predecessors and definitely deserves at least one chance.