Angry Birds coming to consoles this holiday season
| July 14th, 2012 |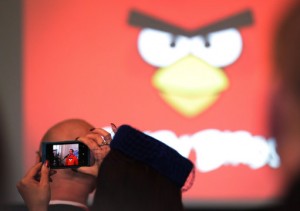 If you were under the impression that Rovio Mobile's Angry Birds had dominated every possible space, you were wrong. There was one space that was yet to find itself getting conquered by the slinging feathery action.
However, the highly-acclaimed game is all set to invade that particular space as it has been announced by Activision that Angry Birds Trilogy is in the works for the PlayStation 3, Xbox 360 and Nintendo 3DS. Surprisingly, there have been no reports of a Wii or Wii U version of the game in the making so far.
The news of a console version of the pig-smashing mobile sensation was teased at the Electronic Entertainment Expo (E3) that was held last month at Los Angeles. The news was unfortunately really short on details.
However, the recent announcement by the American video game publisher has revealed plenty of details about the upcoming console title. The Angry Birds Trilogy will combine the original Angry Birds with Angry Birds Seasons and Angry Birds Rio, though skipping Angry Birds Space for now.
It has been revealed by Rovio's Executive Vice President of Games Petri Järvilehto that the development team has reworked and enhanced all three parts for consoles and high-definition televisions (HDTVs). Furthermore, the game will now feature animated backgrounds, new cinematics, different lighting modes and plenty of extras to make the package even more enticing.
"There are new cinematics, extras and other entertaining content. In addition all of the existing material has been uprezzed and re-treated for the high-resolution and big screen," stated Järvilehto.
This is not all that the console version of the game will offer. The PlayStation 3 edition will have PS Move support, the Xbox 360 edition will incorporate Kinect motion controls, while the 3DS edition of the game will feature 3D visuals as well as StreetPass features.
For the fans of the franchise that are looking to enjoy the experience in its purest form, they can rest easy as the developer will include the option to deactivate all the additional features.
The company behind the Angry Birds franchise conceded that there are a lot of console owners who are perfectly fine with casual gaming experience. Keeping such gamers in mind, it has been decided to expand the game from iOS, Android and Symbian to various other platforms.
Angry Birds Trilogy is expected to hit the shelves this holiday season, reportedly priced at $40 for PlayStation 3 and Xbox 360 while the 3DS version will sell for $30.
Released in December 2009, Angry Birds received generally good reviews and went on to become one of the most popular games for smartphones. It has a reputation of being extremely addictive, challenging and fun. It remains to be seen whether the game would be able to make the same impact on the Sony, Microsoft and Nintendo consoles.