Assassin's Creed 3 dominates the PlayStation PAL Charts
| December 13th, 2012 |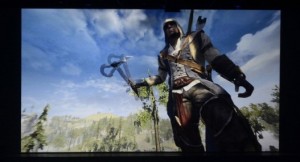 The PAL Charts encompass the Arab Emirates, Australia, Great Britain, New Zealand among others, and it seems the most downloaded game via the PlayStation Store in those regions is a certain Ubisoft title.
Different from the US region, the PAL regions can be classified as Region 2 and Sony recently released the download charts of the region for the month of November.
Releasing Assassin's Creed III as a day one digital release seems to have done the trick for Sony as it continues to promote the PlayStation Network and PlayStation Store as the number one choice for its members from where they can purchase their games. The game has taken the series in a new direction with a new protagonist and new setting.
Fans have recently been asked in a survey whether or not they want to see Connor's return in the next game and whether or not they want to see the next instalment set during the same time period as well or not.
In second place is none of other than Grand Theft Auto IV. There could be a number of reasons for the fairly old game to be so high up the charts but then again, with so much news of Grand Theft Auto V making the headlines one can understand the need for some fans of the series to take a trip down memory lane, in a manner of speaking.
Criterion seem to have worked their magic once again and given Need for Speed fans something to drool over. Need for Speed Most Wanted seems to demonstrate that fact as the game is third on the most downloaded game on the PlayStation Network for the month of November.
It may be the sequel to a game that everyone played for no more than few days but there seems to be quite a bit of interest in the PlayStation Move controlled Sports Champions 2. Whether or not the game does well enough for a third instalment in the series remains to be seen.
Oddly enough Nathan Drake finds himself in the top five for a game that was released over three years ago. The first game in the series, Uncharted: Drake's Fortune, has been attracting quite a bit of interest and rounds up the top five for the month.
The rest of the top ten looks something like this.
6. FIFA 13
7. The Jak and Daxter Trilogy
8. Uncharted 2: Among Thieves
9. LittleBigPlanet Karting
10. Hitman Absolution
So which game or games did you download from the PlayStation Store in the previous month and did the PlayStation Plus discounts or lack thereof influence your decision? Let us know your online shopping in the comment section below.