Axl Rose $20 million lawsuit against Activision given a go ahead by Californian judge
| August 18th, 2012 |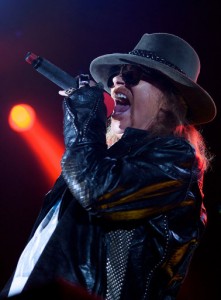 A couple of years back, Guns 'N Roses front-man Axl Rose had filed a lawsuit against Activision for fraud and breach-of-contract.
While the first of the two allegations, i.e. fraud, have been dismissed, a Californian judge has decided to let the $20 million breach-contract suit to move to trial in February 2013.
The whole issue between Rose and Activision started after the lead vocalist of the hard rock band agreed to let the publisher use his song "Welcome to the Jungle" in the rhythm game Guitar Hero III: Legends of Rock. However, Rose subjected the licensing to a few conditions, which included Activision making absolutely no reference to Slash, the former lead guitarist of the band.
However, once Guitar Hero III: Legends of Rock came out in October 2007, Slash was not only prominently featured in the game as well as its marketing materials, which included the cover, but also featured an original trick by Slash.
Not too happy to find the former member of his rock band appearing in the game despite the conditions that he had clearly laid down and Activision had allegedly agreed to, Rose ended up filing a lawsuit against the publisher in November 2010.
Activision has rejected the allegations made by Rose, saying that the latter took too long to file a lawsuit as the game was released in 2007 while the matter was taken to court three years later, while also adding that the suit is not within the statute of limitations for such a complaint.
The lead singer of Guns 'N Roses clarified his position for filing a lawsuit after three years, claiming that Activision had been making settlement offers to him for three years since the release of the game.
"The reason I did not file a lawsuit is because Activision, through my managers and representatives, offered me a separate video game and other business proposals worth millions of dollars to resolve and settle my claims relating to Guitar Hero III," Rose responded in a deposition. "From December 2007 through November 2010, Activision was offering me a Guns 'N Roses dedicated video game, a game dedicated to music from the Chinese Democracy album and other proposals."
As far as the part about the suit being outside of the statute of limitations is concerned, Activision contends that it had gotten into an agreement with GNR Music to use the band's song in Guitar Hero III: Legends of Rock and as Rose does not possess the ownership of the song, he did not have any authority to dictate the terms on his own accord.
With the trial still months away, it still remains to be seen how the two parties prepare to present their case. One also cannot rule out the possibility of Rose and Activision reaching a settlement agreement outside of court.