BioShock 2 is free in the latest PlayStation Plus update
| December 6th, 2012 |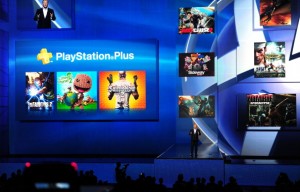 Sony's premium subscription service sees a free PlayStation 3 game and two discounts set for the latest update as US subscribers look over at their European counterparts in envy.
The PlayStation Plus subscription is Sony's way of opening up a new revenue stream as well as providing an extra bit of value to its subscribers over and above its free PlayStation Network subscription. The service provides different content based on the different regions with the two major regions being North America and Europe.
The latest PlayStation Plus update sees one new game on offer for the price of free, while discounts on two titles at the same time. The first, which is the free game, is BioShock 2, which remains one of the most revered gaming experiences on the current generation. The follow up to the successful first game, the sequel solidified the IP as a series and not just a one-time hit.
A description of the game on the PlayStation Blog reads, "Years after the events of the original BioShock, a monster has begun snatching little girls and bringing them back to the undersea city of Rapture. Players step into the boots of the most iconic denizen of Rapture (and recent star of PlayStation All Stars Battle Royale), the Big Daddy, as they travel through the decrepit and beautiful fallen city, chasing an unseen for in search of answers."
At the same time, PlayStation Plus subscribers will also get a 10% discounts on the first episode of the Rockstar Games Collection, which comes with Red Dead Redemption, Grand Theft Auto: Episodes from Liberty City, L.A. Noire and Midnight Club: Los Angeles Complete edition. The discount means that PlayStation Plus subscribers can pick the game up for $53.99 instead of the actual $59.99.
Lastly, comes the discounts on two versions of the same game. Puddle is available for both the PlayStation 3 and the PlayStation Vita as a downloadable title. The physics based puzzle game has proven to be quite popular among a number of players and Sony is looking to offer an incentive for those who have not yet tried the game by slashing the game's price by half.
This means that the PlayStation 3 version can be downloaded for $5.00 while the PlayStation Vita version only costs $4.00.
However, there are a number of subscribers complaining that their European counterparts got the better deal for the month with Batman: Arkham City, Mortal Kombat and LIMBO all on offer. Sony has responded by explaining that the latter announces its update on monthly basis while the US division follows a weekly pattern.
But what you think of the US update? Would you rather have the European content instead? Let us know in the comments section below.
Other People Are Reading