BioShock Infinite dev talks about new setting
| December 28th, 2012 |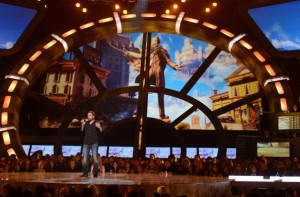 Ken Levine opens up about the game and explains where the idea for the floating city setting in the latest game came from as well as a few other details.
BioShock is one of the many new IPs that were released on this generation of gaming hardware and has gone on to become one of the most iconic series to date. With legions of dedicated fans who scrutinise everything and anything related to the game.
Ken Levine is the eccentric creator of the series and has come under fire from fans in recent weeks after announcing the game has been delayed, not once, not twice, but quite a few times now. The reason given was to polish the game beyond the norm and to ensure those who play the game enjoy nothing less than the perfect BioShock experience.
It was speculated earlier on that the delays were to introduce a multiplayer component to the game but those rumours have since been quashed.
When asked on why the studio decided to change the setting of the game from the underwater city of Rapture to the floating city of Columbia, Levine explained the entire process that went into the idea's inception and execution.
He began by explaining that the studio was done with Rapture, "We didn't want to return to Rapture because we felt, that as a studio, we didn't really have any more to say about that world."
With that sorted the development team then went on to identify the series' core strengths and identity before deciding the next step in the game's development. "So we sat back and had a look at what the principles of a BioShock game are, and what we came up with was that the game should have an incredibly fantastically but deeply believable environment and that it should have completely improvisational combat." Before adding, "Besides that, though, all bets were off."
It was during this time that the studio decided the time period they wished to set their game in, "So we started looking at when we could set it and what environments that may produce and we quickly zoned in on the turn of the century."
BioShock Infinite is in the top three of many gamers' most anticipated game's list for 2013 with competition from Grand Theft Auto V and The Last of Us. 2013 is set up to be a great year for gaming with a number of stellar titles scheduled for release during the next 12 months.
But what about you; are excited about BioShock Infinite and its new setting or does some other game tickle your fancy? Let us know in the comments section below and keep it here for your video game news needs.
Other People Are Reading