BioWare rewarding those with Mass Effect 2 in their Black Ops 2 copy
| November 19th, 2012 |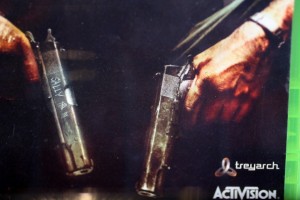 The developer is offering the entire Mass Effect trilogy to the first fifty people who found one CD of Black Ops 2 and one of Mass Effect 2 when they purchased the latest Call of Duty game.
The world seems to be a better place after a in a bizarre twist to already bizarre events. Black Ops 2 is set to shatter records set by its Infinity Ward predecessor, Modern Warfare 3, as Activision earlier confirmed that pre-order figures of Treyarch's latest game exceeded those of Modern Warfare 3.
While the specific figures have not been released yet, it is only a matter of time before they are but in the meantime there is a bit of news that has pretty much everyone in the gaming world smiling.
As it turns out, an error in the writing of the Black Ops 2 discs has resulted in some customers receiving Black Ops 2 with a Mass Effect 2 disc included as well. Both discs were supposed to contain Black Ops 2, as DVD storage is limited, but instead players only received half the game and whole other game they had no intention of purchasing as well.
The issue was not too much of a problem as the code that came along with their copy of the game meant that the full version could be downloaded from Steam without any hassle.
As for BioWare, the developers of the Mass Effect game that has found its way into the PCs of gamers or at least to stores, well, they seem to be pretty cool about it and are even rewarding fans who ended up with copies of the game.
The official BioWare blog read:
"Rumour has it that about a thousand customers who purchased Call of Duty: Black Ops II for PC today were also treated to a surprise copy of Mass Effect 2. If you were one of the affected, chances are you thought it was a mistake, but we prefer to think that it was an omen, and when the universe talks, you should listen."
Before continuing, "if the universe thinks that you should be playing Mass Effect right now, who are we to argue? In fact, we want to help!."
And help they are, as the studio has promised the Mass Effect trilogy to anyone who can submit a photo of themselves with the two discs and their face clearly visible. By anyone, we mean the first fifty people to do so.
The trilogy will be handed out to the winners in the form of a PC code, not too bad a deal.
BioWare must be commended with how they handled the situation and put a smile on many gamers' faces.
Other People Are Reading