Bioware set the wrong precedent with Mass Effect 3
| July 23rd, 2012 |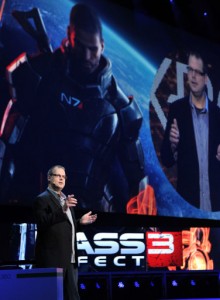 An anonymous employee from one of the major publisher claims that the way Bioware handled the Mass Effect 3 ending saga claiming that he is "worried about the precedent" set by the developer.
Mass Effect 3 was one of the most eagerly anticipated games of the year and it did not disappoint until players reached the ending. Of the endings that players could unlock based on their actions it turned out that none of them satisfied fans, mostly because none of them were the result of the decisions they made throughout the game.
Bioware initially took a 'deal with it' stance following the outcry at the disappointing endings before the scale of the disappointment become apparent. The studio then promised it would be releasing a DLC with different endings, much to the relief of the fans of the series.
However, in a recent Questions and Answers session with Kotaku, an anonymous employee of one of the larger publishers in the industry believes that Bioware have set a precedent that would make gamers even more demanding than they were.
He began by pointing out how so many gamers thought the publishers and developers were money hungry leeches or as he put it, "A lot of the bile comes from a place of ignorance, lack of understanding, etc.," before admitting, "But we can be straight-up evil too. Depends on the situation."
The anonymous industry heavy weight also explained that the reason for this was due to the fact that it was the only entertainment product segment in the industry that asked gamers to pay a considerable amount.
He said, "Gamers are absurdly entitled, but I think they got there because we ask so much money from them every step of the way." He went on, "No one's demanding reshoots for the final Matrix, because it only cost you 10 bucks to see it. Sometimes I think we in the industry lose sight of what it's like to pay $60 for a piece of entertainment. We're worried about the precedent that Bioware set here. Will it fan the flames on future titles? No one knows for sure."
However, Mr. anonymous got more to the point and called out Bioware on how fans would expect more from other studios due to what they did. He said,
Whether or not something similar will happen in the future remains to be seen but gamers will feel like their feedback matters and game developers may have to contend with fan's demands in a way they have not before and that may not always be a good thing.
But what does the reader think? Does the developer have the right to stick to their ideas or listen to fans more? Let us know in the comments below.