Black Ops 2 beats Modern Warfare 3's $1-billion in 15 days record
| December 8th, 2012 |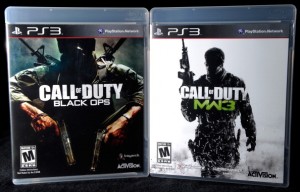 Or did it, as analysts and retail figures both paint a different picture as to whether or not the latest game in Call of Duty series became the fastest selling game in the series to the $1-billion mark.
There is pretty much no denying the fact that anything with the Call of Duty branding on it is going to sell extremely well. Unless of course it is developed by Nihilistic, called Declassified and on the PlayStation Vita, in which case it is a train wreck.
While the PlayStation Vita version, Black Ops: Declassified, may have underwhelmed, it did help in move a considerable number of Vita consoles off shelves during the Black Friday period. The review scores and fan ratings, however, have been nothing short of damning for the series debut on the platform.
However, the sequel to Black Ops and follow up to Infinity Ward's Modern Warfare 3 has been doing the business on the sales front despite there being some confusion surrounding the sales of the game.
Black Ops 2 beat Modern Warfare 3's launch day sales record by over $100-million. However, the first week's sales figures failed to beat out Modern Warfare 3's, which led to many speculating that the game would not go on to break the latter's fastest to $1-billion record.
The second week sales of Black Ops 2 painted a different story as they beat out Modern Warfare 3's to become the best-selling entry in the series for the second week period. And the latest figures are suggesting that the game has managed to reach the $1-billion mark in 15 days as opposed to Modern Warfare 3, which did it in 16 days.
The confusion has come from the fact that many believe that Black Ops 2 has sold fewer units than Modern Warfare 3 but has still managed to break the record. One suggestion put forward is that Black Ops 2 sold at a higher average price, although everyone is now looking towards Activision, the series publisher, for answers.
In the meantime Bobby Kotick, the chief executive of Activision Blizzard, took some time to revel in the spotlight following the latest entry in the series' tremendous reception.
He began by pointing out how the Call of Duty games "have been one of the most significant entertainment events of the last six years." Before continuing, "Sine Call of Duty was launched, cumulative franchise revenues from players around the world are greater than current worldwide box office receipts to date for the top-10 grossing films of 2012 combined."
It is only a matter of time before Activision come forward and clear the air but it seems more than a little likely that the industry experts and analysts may have been too quick to write off Black Ops 2's chances of beating Modern Warfare 3's record.
Other People Are Reading