Black Ops 2 remains in the top ten in Japan
| December 11th, 2012 |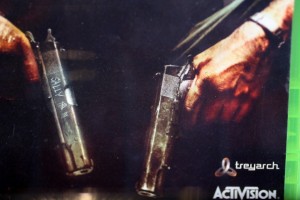 Three new entries take over the top three spots in the Japanese software sales charts as Animal Crossing: New Leaf continues to sell in six-figures.
The landscape of the Japanese charts have seen a major shift as there are no less than five new entries with Medal of Honor: Warfighter and Assassin's Creed 3 slipping well outside of the top ten.
Atelier Totori Plus: The Alchemist of Arland 2 may not be a game many here are familiar with bit the game has managed to debut in the top then, albeit barely. Selling a total of 27,651 units since its release in the previous week, the PlayStation Vita title developed by Gust is one of two games to be released on Sony's portable platform.
The second Vita title in the charts is Fate/Stay Night –Realta Nua-. Developed by Kadokawa Shoten, the game sold just under 3,000 more units than the tenth placed, The Alchemist of Arland 2. The first week sales figures of the game stood at 30,583 units.
New Super Mario Bros. 2 nears the 1.5-million units sold mark as it sells another 32,973 units in the previous week. The game has been a revelation for the 3DS and among its best-selling titles to date. The total sales for the game in Japan currently stand at 1,453,157 units.
One spot above Mario is Treyarch's revolutionary Call of Duty: Black Ops 2. The game has been praised for being a nice refresher in what was becoming a stale and stagnating series. The game managed to sell over a hundred thousand units in its first week and its second week sales have taken it to over 200,000 units sold. The weekly sales figure for the game stands at 36,234 units and the game's lifetime sales in Japan are 233,584 units.
Hot Shots Golf: World Invitational on the PlayStation 3 is the latest instalment in the long running, highly popular party golf gaming series and the latest week of sales saw the game's lifetime figure increase by 37,874 units to a total of 138,736 units.
In fifth place is Pokemon Mystery Dungeon: Magnagate and the Infinite Dungeon as the game managed to sell a total of 48,039 units and its figures have remained fairly consistent since its release.
One spot above the game is Animal Crossing: New Leaf. No longer calling the number one-spot its home, the Nintendo 3DS game still managed to sell 105,553 units in the week to reach a total of 1,212,312 units sold in its lifetime.
In third place is Taiko No Tatsujin Wii: Super Deluxe Edition and in second place is Professor Layton Vs. Ace Attorney, which sold 115,955 units and 128,856 units respectively.
However, top spot belongs to 2nd Super Robot Wars OG for the PlayStation 3 which sold an impressive 217,710 units in its first week.
Other People Are Reading