Black Ops 2 was the best-selling game in November
| December 11th, 2012 |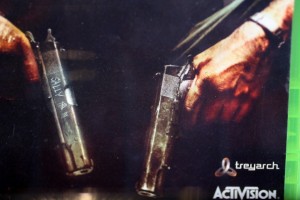 United States: no surprises as the monthly software sales charts show that the latest Call of Duty game sold the most copies out of any of the games released during the month.
There seems to be no stopping the Call of Duty sales train as the latest instalment in the series has been selling like there is no tomorrow, which makes sense as many people are looking towards the end of December for the apocalypse.
However, Activision will not be too bothered as Call of Duty: Black Ops 2 ends the month of November as the best-selling game out there. Although fans are still complaining about the game being built on the same engine as Modern Warfare, there have been plenty of changes and gameplay tweaks that have allowed Treyarch's latest game to stand out.
Coming in at second place is the Xbox 360 exclusive, Halo 4. The game managed to outsell all the other titles despite only being released on one console and that is a testament to just how entwined the Halo series is in the fabric of nearly every game. The game has sold an incredible, 4-million copies since its release and has taken the franchise's overall sales to over 50-million units sold.
In third place is the American Revolution and one assassin, Connor's, war against the Templars. Yes, Assassin's Creed 3 was the third best selling title for the month of November as a majority of players have taken to the new setting and character quite well with Connor even being nominated as one of the best characters in the recently held Spike Video Game Awards.
Gangnam Style-ing its way into fourth place is Just Dance 4. The game recently saw PSY's track made available as DLC and that has seen a steady stream of revenue open up for Ubisoft. With the holiday season fast approaching one can expect the game's sales to increase even more.
There is no United States video game sales charts without the inclusion of an NFL game and November's charts are no exception with Madden NFL 13 coming in at number five.
Skylanders Giants and Need for Speed: Most Wanted are both multiplatform titles and both find themselves in sixth and seventh place respectively. The latter was developed by one of our favourite developers, Criterion, and can only be described as Burnout meets Need for Speed.
The final three spot of the top ten are occupied by NBA 2K13, WWE 13 and FIFA 13 respectively, with the latter currently holding the record as the fastest selling sports title in history.
So which games did you pick up in November or are you waiting for some of the February to March releases? Let us know in the comments section below.