Black Ops II design director wants all gamers to taste multiplayer experience
| September 29th, 2012 |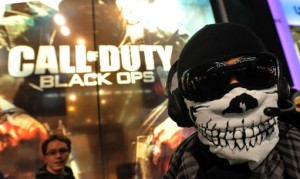 The Call of Duty franchise owes a great deal of its success to its robust multiplayer experience, but it turns out that some gamers are more than content with just the single-player mode.
Call of Duty: Black Ops II design director David Vonderhaar came out to bluntly admit during an interview with publisher Activision's One of Swords that he is not happy about some players ignoring the multi-player mode.
According to him, every gamer who plans on getting their hands on the upcoming instalment in the popular first-person shooter should make it a point to take some time out to get a taste of the multiplayer mode instead of simply going through the solitary experience and leaving it at that.
In a bid to attract the players towards the mode that is responsible for much of the franchise's success, Black Ops II will see the return of Combat Training mode.
"As popular as Call of Duty is, there are a lot of people who don't play multiplayer," he said. "And quite frankly, this bugs the shit out of us. They should all play multiplayer. And Combat Training helps us get there."
Sharing the details of the new features added to the Combat Training mode in the upcoming Call of Duty game, Vonderhaar said that this time around the training progress of the player will be integrated in his "real" multiplayer rank. The first ten levels that a player gains during his Combat Training session will transfer over to his public ranking.
In addition to this, the objective-based game-types in the Combat Training mode will allow players beyond level 10 to earn experience (XP), though it will be at a reduce XP accrual rate of 50 percent.
He further went on to add that fighting the bots in the mode making its return in the upcoming game will allow new players to get into the game and start enjoying the experience.
The return of the Combat Training mode and the focus of the developer on the multiplayer mode are hardly surprising since the game has being maintaining its place among the top-rated first-person shooter largely because of its multiplayer experience.
According to a handful of industry analysts, games such as Call of Duty lack creativity and are hardly fresh, but the publishers are sticking to such intellectual properties (IP) because the games are consistently performing well in the market.
The analysts believe that while such a risk-averse attitude is working out for the publishers and bringing it desirable short-term results, the strategy is bound to lead to come back to not only bite them but also hurt the whole industry in the future.
Call of Duty: Black Ops II is scheduled to come out for the PlayStation 3, Xbox 360 and PC on November 13, with the Wii U version of the game to come out on the same day as the console launches in North America.
Other People Are Reading