Black Ops II sells over 1-million units on release at GameStop alone
| November 15th, 2012 |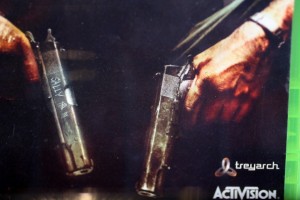 The latest Call of Duty title is on-track to beat out Modern Warfare 3's record and becoming the best-selling game in history after a strong opening night of sales.
Halo 4 may have taken up all the headlines in terms of being the biggest entertainment launch in the United States for 2012, beating out the likes of the Avengers and Harry Potter and the Deathly Hallows Part 2, when it came to opening night sales, but Black Ops 2 is set to eclipse it soon.
The eagerly anticipated game was touted by Activision, the series' developer, to break the record currently held by Infinity Ward's Modern Warfare 3. That was and still is based on the pre-order figures, which Black Ops 2 beat its predecessor in by some margin.
There were concerns over whether or not the game could cope with increased competition in the market this time around as a number of first-person shooters were set to release this Holiday Season. The likes of EA' Medal of Honor: Warfighter, Microsoft's Halo 4 and Ubisoft's Far Cry 3 are all in the same release window.
EA's game failed to wow gamers and has since slipped down the charts after a strong opening, however, the real threat posed to Call of Duty's dominance came from Halo 4, which saw the return of a much loved series. With that game managing to grab a share of the Xbox 360 market many wondered how Black Ops 2 would stack up.
Well, the game seems to be stacking up rather well as Tony Bartel, the main man at the video game retailing giant, GameStop, declared: "Black Ops II is shaping up to be our biggest game launch of all time. GameStop sold more than 1 million units worldwide during our midnight launch period."
That's good news for all parties concerned, with analysts estimating that the game may very well have sold over 13-million units on its opening day worldwide! To give a rough estimate as to how much money has been thrown around we take the average price to be $55, which is low but it is considering all the discount offers and special promotions etc, and multiply it with the total sales.
The final figure stands at $715,000,000, which is pretty much the same amount of money Ubisoft earned in its first week following the release of Assassin's Creed 3.
It will be interesting to see if Black Ops 2 manages to reach the $1-billion mark faster than its predecessor which did it in around a month mark.
But what about the readers; have you picked up a copy of the game yet or not? Let us know in the comments section below.
Other People Are Reading