California Democratic senator condemns NRA's response to violent video games
| December 27th, 2012 |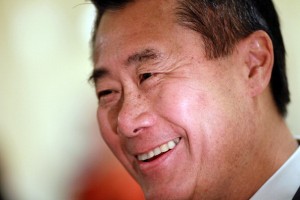 California Democratic senator calls the response of National Rifle Association (NRA) in wake of Connecticut shooting "pathetic and completely unacceptable."
The California Democratic senator Leland Yee is not happy with the response of the National Rifle Association (NRA) in wake of the deadly shooting at the Sandy Hook Elementary School in Newtown, Connecticut, on December 14, and he is not bothering to keep his opinion subtle.
Terming the response as mind-boggling, he said that the sudden concern of NRA over the effect of ultra-violent video games and programming content on children is surprising and confusing at the same time, considering the fact that the organisation was nowhere to be seen when his law regarding violent game was brought before the Supreme Court in 2011.
"I find it mind-boggling that the NRA suddenly cares about the harmful effects of ultra-violent video games," Yee said. "When our law was before the Supreme Court–while several states, medical organizations, and child advocates submitted briefs in support of California's efforts–the NRA was completely silent."
The Democratic senator went on to add that the NRA is stubbornly refusing to face reality and is instead trying to pass the blame for the Connecticut incident to other factors, whereas it should rather be focusing on becoming a part of the solution to gun proliferation.
According to him, NRA's suggestion of posting more armed guards at schools etc. is not a very suitable and effective solution to the issue of ensuring the protecting children.
He pointed out that the presence of armed guards at Columbine High School was not enough to prevent the deadly massacre from happening in 1999.
"More guns are not the answer to protecting our children, as evident by the fact that armed guards weren't enough to stop the tragedy at Columbine High School," Yee said. "The NRA's response is pathetic and completely unacceptable."
During a press conference last week, NRA vice president Wayne LaPierre had condemned violent video games, films and music videos, claiming that such content portrayed life as a joke and violence as a manner of life.
He also criticised the media for spreading misinformation and demonising legal gun owners instead of pointing out the real culprits.
LaPierre said some companies in the video game, film and music industry are sowing the seeds of violence against its own people, with their actions going unchecked by the government and public.
Ever since it has been discovered that the shooter that killed 20 children and six adults at Sandy Hook Elementary School was a Call of Duty addict, there has been a lot of criticism on depiction of violence in video games.
Democratic West Virginia senator Jay Rockefeller has introduced a bill in Congress, tasking the National Academy of Sciences to carry out a comprehensive study and investigation of the effects of violence video games on the long-term and short-term of well-being of children.
Other People Are Reading