Call of Duty: Black Ops II developers asks veteran players to take it easy on 'Christmas Noobs'
| December 19th, 2012 |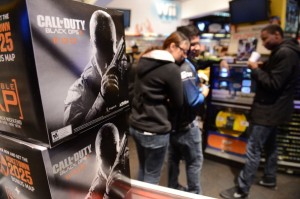 Treyarch requests adept players to take it easy on "Christmas Noobs" while advising new players to prepare themselves before going against experienced players.
With Christmas just a week away, the Call of Duty: Black Ops II veterans will be rubbing their hands with excitement and busy perfecting their sinister laugh as a wave of new players is expected to hit online servers.
Gamers getting a copy of the latest title in the Call of Duty franchise as a present for Christmas are heading into a battlefield where the concept of mercy does not exist.
The game's developer Treyarch, however, has taken a shot at making the multiplayer mode of Call of Duty: Black Ops II accessible for new players.
In its latest "Message of the Day" posted on Reddit, the developer has requested the adept first-person shooter players to take it easy on the newbies, even though it hardly expects its request to be taken seriously.
"Let's talk Christmas Noobs. It's that time of the year again where thousands of new players join the online ranks for the first time. We'd ask you to go easy on the Christmas Noobs, but we know you won't," reads the message.
Even though the pro Call of Duty players are bound to come hard at the new players, Treyarch encouraged the latter to spend some time in the Boot Camp in the Combat Training category to get familiar with the gameplay and brush up their basic shooting skills before going up against the sharks.
"If you are a Christmas Noob yourself, don't be bullied. In the Combat Training category you'll find a great playlist called Boot Camp. This is the best place for a player to get up to speed on the game and all it has to offer."
The gap in skill level of old and new Call of Duty: Black Ops II players are bound to be significantly wide and thus would make the initial encounters between the two pretty one-sided.
However, there is a good chance that some gamers getting their hands on a copy of the latest entry in the renowned first-person shooter franchise on Christmas will be pretty familiar with such games and will therefore make their online presence felt strongly in no time.
Players who are still relatively new to first-person shooters will, however, need to spend a significant amount of time in training.
Christmas is one of the favourite times for game makers as consumers are more willing to spend cash on games than any other time of the year.
Call of Duty: Black Ops II released for the PlayStation 3, Xbox 360, Wii U and PC last month, with the game already managing to reach impressive sales figures.