Can Spec Ops: The Line do what Naughty Dog's Uncharted series did?
| November 6th, 2012 |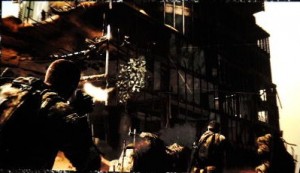 The Line may not have been a huge financial success, however, that does not mean that the game's impact has not been felt as it raises important questions about the genre, similar to the Uncharted series.
While Battlefield 3 and the Call of Duty series provide players a linear path where all of the player's actions are justified, Spec Ops: The Line has the players looking for vindication throughout, only to find out at the end that there isn't any.
In other games, players will mow down hundreds of enemy soldiers and mercenaries who are motivated by nothing more than hate and to watch the world burn and kneel at their feet. They give players no reason to sympathise with them and all those who play the game need to know is that if the cross hairs turn red, then killing them is the right thing to do.
It's simple, its good versus evil in black and white. Kill, kill and then kill some more because it is the right thing to do, it is the only way and all your merciless killing will be justified in the end.
But what happens when one takes the same scenario and flips it on your head. What if, after killing hundreds of soldiers, civilians and insurgents, one finds out that there is no vindication at the end and no justification for what they did. What if players find out that they were the bad guy? What if players find out that they were never in the right?
In that moment, the player simply stares at the screen, trying to process what just happened. It is a powerful moment in gaming, perhaps one which will resonate with the gamer for some time. No other game engages players in the same way that Spec Ops: The Line does and the industry will have taken note.
What Uncharted did with its three games was show that games need not only be about generic stories with rushed cut-scenes, but that they can be treated like any big budget Hollywood production and go on to become a huge success.
Naughty Dog had actors act out each cut-scene with the movements mo-capped and the sound recorded on the spot. Combined with the storyline and the gameplay, the Uncharted games went on to become huge successes because no one had seen anything as polished or deep before.
It seems to have inspired other games to do the same as well with Square Enix's Tomb Raider and Hitman Absolution the most notable examples.
One can only hope that Spec Ops: The Line has the same impact with more studios willing to risk showing players the reality of their in-game killing sprees and have a deeper impact on those who play the games.
Disclaimer: the views and opinions expressed in this article are the writer's own and do not reflect the editorial policy of Wishfree.com