Capcom confirms leaked copies of Resident Evil 6 sold in Poland
| September 5th, 2012 |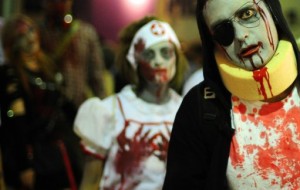 Capcom has confirmed that the copies of Resident Evil 6 sold this past weekend in Poland were stolen.
The latest title in the Resident Evil franchise was originally scheduled to release for the Xbox 360, PlayStation and PC on November 20.
However, the game somehow made it into the market well before its scheduled release date, with reports coming in about copies of the German PlayStation 3 version of the game becoming available for sale in a store in the Polish city of Poznan.
It is not clear just how many copies have been leaked as yet, though Capcom has already undertaken the investigation to look into the reports about the leak and locate the stolen copies.
A company representative talked to Eurogamer about the matter, conceding that Capcom is already looking into the matter, while adding that only a handful of copies have been leaked.
"Capcom is currently undertaking a thorough investigation into reports that Resident Evil 6 is being sold ahead of its official October 2 release date," the Capcom representative told the site. "At this time, all we can add is that it would appear this unfortunate incident is limited to a small quantity of stolen copies of the German USK PlayStation 3 version of the game."
One of the copies of leaked Resident Evil 6 appeared for sale on ebay, with the seller claiming that he had gotten his hands on the game legally. The bidding for the game started off at $600. The listing is has been removed from the site now.
It is not clear what the publisher-cum-developer plans on doing with the stolen copies and the players who bought them. It also remains to be seen whether Capcom is able to figure out how the game was stolen and through what channel was it delivered to the stores and gamers.
Capcom has responded to the trafficking of its stolen game by pulling the release date from November 20 to October 2 for the Xbox 360 and PlayStation 3, while the release for PC will follow shortly.
This is not the first time that a game has been leaked ahead of its launch date. EA became victim of the same felony as its first-person shooter Battlefield 3 was leaked and put on torrent sites for the users to download and play for free. A few years back, Microsoft found itself in a similar situation with Halo 3 getting leaked.
While the people who played the leaked version of Battlefield 3 got away without any punishment, Microsoft was not as forgiving and reacted to the situation by banning the Xbox Live accounts of any gamers possessing the illegal copy of Halo 3 until the year 9999.
Gamers are strongly advised to stay away from the leaked copy of Resident Evil 6 and instead wait for Capcom to release the legitimate copy in about a month's time.
Other People Are Reading