Capcom may consider Resident Evil 2 remake with enough fan support
| September 28th, 2012 |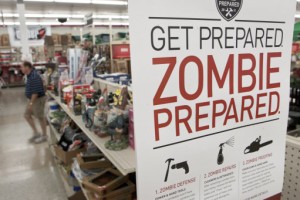 The fans of the Resident Evil franchise are not pleased with the efforts of Capcom over the past few years and therefore are often found remembering the good old days when they were blown away by the second instalment in the series.
Despite being on the verge of releasing the sixth title in the survival horror game, the company revealed that it could possibly revisit Resident Evil 2 if the fans strongly desire it.
During a video question-and-answer session with GameSpot, Capcom producer Toshiaki Hirabayashi clearly stated that the company is not working on a remake of Resident Evil 2 at the moment, thus leaving no doors open for rumours that would suggest otherwise.
He did, however, admit that the company could consider giving life to what is arguably the most popular game in the series so far if the fans start making a lot of noise for it.
"Just to lay all the cards on the table, that way there's no rumor-mongering or things like that, no, we are not working on a Resident Evil 2 remake as of now," Hirabayashi said. "But if the fans really clamor for it; if there's a groundswell of support for remaking that game, then I think that's something Capcom would take under consideration."
It is thus clear that Capcom is keeping the door open for a HD remake of the game, giving fans plenty of hope to relive the experience of the zombie-oriented shooter once again.
Released for PlayStation One in 1998, Resident Evil 2 was well received by critics and generally earned positive reviews, even making it into several top 100 games lists.
The game saw the players taking control of Leon S. Kennedy and Claire Redfield as the two protagonists faced the horrors awaiting them in Racoon City, a place infected by the T-virus that transformed the civilians into zombies.
The gripping storyline, enjoyable gameplay, cinematic story-telling and strong character design was just some of the reasons for the game to become a blockbuster in its time and eventually got ported to other platforms as well.
Many fans are not too happy with the more-recent Resident Evil games and are beginning to lose their interest in the franchise as Capcom continuously struggles to deliver a satisfactory experience.
With Resident Evil 6 all set to release for the PlayStation 3 and Xbox 360 on October 2, the company would surely be hoping for a change in luck. The trailers released so far have not gone down too well with the fans of the franchise, pointing out a number of shortcomings in the upcoming game already, which includes but is not limited to the camera angle.
It remains to be seen if views of fans change after they play the game when it is released, or if the only option left for Capcom to keep the franchise alive is through a HD remake of the earlier titles in the series.