Capcom releases free title update for Resident Evil 6
| December 18th, 2012 |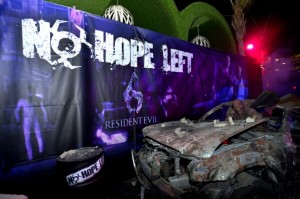 Title update introducing a number of features requested by fans to Capcom's latest title in the renowned third-person shooter.
Capcom has released a new title update for the Resident Evil 6, which will resolve a number of issues that the fans have been complaining about since the game's launch in October, 2012, for the PlayStation 3 and Xbox 360.
The latest offering in the Resident Evil series received somewhat mixed reviews, with a number of journalist and gamers criticising the game's camera, which did not give the best view of action and surroundings.
This particular issue became evident as the game's first gameplay footage was revealed. The fans of the franchise, however, expected the camera issue to be resolved before its release, but that did not turn out to be the case.
Consequently, the gamers started complaining and sending requests to the Resident Evil maker to do something about the camera as it was proving to a real turn-off.
Much to the relief of the fans, Capcom has finally release an update that will allow players to adjust the camera to give the best possible field of view that suits their play style.
Another feature that the title update has added to Resident Evil 6 is the availability of Ada Wong's campaign right from the start of the game instead of the player having to complete the other three campaigns to unlock Ada's story.
Furthermore, Ada's campaign will also feature support for a human-controller co-op partner.
The much-awaited 'No Hope' difficulty level has also finally arrived, much to the joy of the hardcore gamers who are looking for a greater level of challenge than before.
Another title update for Resident Evil 6 is also in the pipeline, which will make the Agent Hunt mode available from the start of the game, while a few other adjustments will also be made.
While Capcom is actively working on improving the Resident Evil 6 experience by releasing regular title updates, it is also looking to keep the experience fresh and attempting to make it even more enticing through downloadable content (DLC), the first of which is all set to hit Xbox Live sometime this week.
The first post-launch DLC for the Xbox 360 version of the game will introduce three new multiplayer modes, namely Predator, Survivor and Onslaught mode, whereas the Siege mode that the company had revealed a couple of months back will be arriving with the next DLC sometime later.
Capcom's latest Resident Evil game has failed to satisfy the huge fan-base of the franchise yet again, though the company is putting in a great deal of effort and allocating significant resources to increase the appeal of the game and make the experience it offers more satisfying.
Other People Are Reading