BioShock Infinite's character was the hardest to write – dev
| December 28th, 2012 |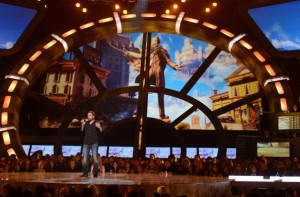 Ken Levine, the creator of the series, talks about the process that goes into writing the characters for the game and how this time around things were more challenging than usual.
Our coverage of Irrational Games upcoming eagerly anticipated third instalment in the BioShock series continues as the creator the game sheds some light on how he found it easy to connect with previous characters in the game but not so much this time around.
BioShock Infinite is in everyone's most anticipated titles of 2013 list and one look at the game will explain why. The game is unique in its setting, approach to the genre and pushes the boundaries of the first-person shooter genre.
BioShock Infinite will not have any multiplayer, as was confirmed by Levine a few weeks ago. Rumours surrounding the multiplayer component gained momentum when the game had been delayed but the developers put out the embers before they could catch on.
In a recent interview with CVG, Levine explained how BioShock Infinite would continue the tradition of introducing memorable characters in a memorable world, beginning with Comstock.
He began, "Comstock is an interesting character." Before going on to add, "And of all the characters in the game, he was the hardest for me to write."
The creator of the series went on to explain the reasons behind that when he elaborated, "Because it's very important to me when I'm working on a character that I can connect to them in some way and I don't really have a religious background."
Levine explained, "With Objectivism, I can be really coy about my beliefs, but I can certainly tune into the first message in Rapture's lighthouse – you know, no Gods, no Kings, only men?" he continued, "I like that and I can agree with that because I'm a bit of an individualist."
However, he went to admit that he found it tougher to feel as connected with Comstock, who was the polar opposite of the ethos found in the previous games. He said, "With Comstock, it was tougher, because I'm not anything like a prophetic religious leader."
BioShock Infinite replaced the underwater city of Rapture from the first two games with a floating city known as Colombia. The two settings are polar opposites of each other with Levine explaining how Rapture was more of an underwater dungeon whereas Colombia was built more on a progressive society than anything else.
It will be interesting to see whether Colombia will be as memorable as Rapture was although from what the gaming world has seen so far, the chances of that are rather high.
But what is your take on BioShock Infinite's new direction in terms of characters? Let us know in the comments section below.
Other People Are Reading