Console transition will result in demise of some publishers, believes Take-Two CEO
| November 29th, 2012 |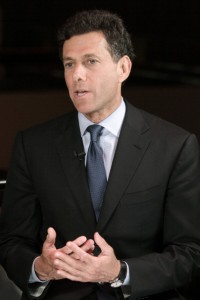 Gamers, publishers and developers around the globe are anxiously waiting for Sony and Microsoft to launch their next-generation consoles.
While the console transition has everyone excited, Take-Two CEO Strauss Zelnick expects to see a casualty or two once the current console cycle ends.
Speaking at the Credit Suisse Technology Conference, the GTA publisher CEO pointed out that his company has laid a great deal of stress on quality of games as well as financial stability, which has prepared it for the future.
According to him, third-party publishers that have not prepared themselves for the shift from current-generation hardware to next-generation hardware are likely to liquidate once the transition begins, noting that the same thing happened to Midway, the company behind the popular Mortal Kombat franchise.
"If you're not capitalized for the transition, you can find out that you're not there for the transition," Zelnick said. "And historically, in every transition that's occurred in this business, one or two third-parties have gone out of business. Last time around it was Midway and a couple of others. Reasonable people can argue about which one it'll be this time. I have my own point of view, which I haven't exactly been quiet about. We make sure we're not on the list of casualties; to the contrary, we're on the list of winners."
Despite not naming any company that he expects to die upon the transition to next-generation console, it is somewhat easy to guess at least one publisher that Zelnick may be pointing to while talking about casualties.
During an interview this April, he had predicted that the Darksiders and Saint's Row publisher THQ would be dead in six months.
While THQ is still alive, it is indeed stuck in a quicksand and finding it pretty hard to stay afloat.
Zelnick's prediction about transition to next console cycle leaving behind causalities does not seem without merit.
Once Sony and Microsoft introduce their high-end consoles into the market, the publishers will find themselves taking a greater deal of risk to introduce new intellectual properties (IPs) into the market and spending significantly more than what they are spending on development of games for the existing hardware.
Companies that are not doing too great at the moment and having a tough time holding their own in the current scenario are clearly not in a position to prepare themselves for the future.
Keeping this in view, it seems highly likely that such companies will be unable to survive the console transition as they will lack the IPs, technology and strong financial footing that are necessary to survive such massive changes.
Do you feel that console transition will push some companies out of business? If yes, which companies can come under the guillotine? We would love to hear your thoughts.