Criterion gives some Need for Speed Most Wanted tips
| November 15th, 2012 |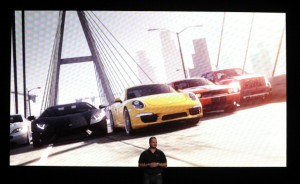 Jeremy Chubb, the Community Manager at the dev studio, gives some useful tips for the demo of the game that was recently released on both the PlayStation Network and Xbox LIVE Marketplace.
The latest Need for Speed game may not be the best in the series but it's not far from it either if public and critical opinion is to be taken into consideration. The latest entry in the series was a 'make up' on EA's side for the atrocious Need for Speed The Run, which pretty much no one liked.
Most Wanted was developed by the same studio that brought the stellar Hot Pursuit entry in the Need for Speed series, which pretty much breathed life back into the slowly stagnating franchise. This time around, EA brought Criterion back into the development fold and the result is an open world sandbox styled Need for Speed game that builds on the foundations laid by Hot Pursuit.
Players can unlock cars by simply exploring the city and discovering the various 'Jack Points'. Each Jack Point holds a different car, so players can driver whichever car suits their fancy as long as they know where to find it as all cars are available from the get-go – pending discovery.
For those looking to get the most of the demo, Jeremy Chubb, the community manager at Criterion has these handy tips on offer.
Firstly, he emphasizes on the importance of having one eye on the road, one on the cops and one of the mini-map.
"When racing keep an eye on the mini map in the bottom left of the screen to avoid missing crucial turns."
Secondly, he stresses the importance of gas stations, "Look out for gas stations. Drive through these to clean, repair and respray you car. If you're taking a beating during a race or cop pursuit, these can make all the difference between first and last, place or escape and arrest."
Thirdly, he wants you to burn the nitrous, "Win the Key to the City event to unlock the Burn Nitrous modification." The nitrous boost can be refilled using all the insane antics as were present in the Hot Pursuit and the Burnout games.
Fourthly, he wants you to have a nice rider to enjoy the demo better, "The end of the second event finishes at a gas station. Behind it, you'll find the R8 Spyder."
Lastly, he doesn't want you to be arrested, so has this handy little tip as well, "With the cops on your tail, get out of sight and hit L3 to switch off the engine."
So will you be giving the free demo a shot or have do you already own a copy of the latest Need for Speed game? Let us know in the comments section below.
Other People Are Reading