Crysis 3 dev acknowledges TimeSplitters fans' online petition and encourages it
| June 24th, 2012 |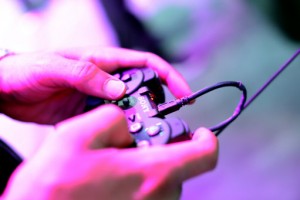 TimeSplitters 4 could be free-to-play, although fans' have to prove that there is enough demand for the game as CryTek look for a push to start the project.
CryTek may be known for the Crysis games, with the upcoming third instalment in the series looking absolutely gorgeous, however, they do have one other, rather forgotten, IP in the form of TimeSplitters.
The quirky shooter has been long absent from the gaming scene and it seems that fans of the series cannot bear to not have any news on a new iteration of their beloved game. The first game in the series was released in 2000 with a sequel following just two years later. The last game in the series to have been released was TimeSplitters: Future Perfect all the way back in 2005, however, despite being announced in 2007, the fourth game in the series remains delayed up until this day.
CryTek do want to get back to developing the game, yet they admit it all depends on whether or not there is enough interest from the fans. Cevat Yerli, the CEO of CryTek, said, "I wish we were working on it."
That seemed to be enough for fans to get an online petition started where fans were signing up in their hundreds and donations were being made as the group looked to raise a $100,000 to show their intent.
The petition did not go unnoticed by CryTek as Yerli would have given the most avid petitioner for the cause a wet dream, when he said, "How big is the TimeSplitters Community? Let me hear you."
At the same time fans of the series are also trying to do their best in order to build and continue the momentum, as Yerli also hinted that they would not say no to a fan funded game. The CEO teased the TimeSplitters' community when he said, "I suppose if someone really, really wanted to…"
That has given fans of the series a fair bit of hope, as a member of the group went on record stating, "We are a group trying to convince CryTek to finish developing TimeSplitters 4! Even if it means doing a Kickstarter." He continued, "Even though the page is to gain 100k, we'll probably need much more."
The group currently has more than 3,000 Facebook users signed up and expect that the number to grow as an increasing number of fans find out about Yerli's statements and encouragement.
At the same time rumours have also emerged that if the game is released it may very well follow a free-to-play model such as Ubisoft's Ghost Recon Online and other such titles. CryTek was also interested in entering the free-to-play market and it seems that TimeSplitters 4 may present the studio with an opportunity to do so.
Other People Are Reading