Dark Souls 2 revealed, new directors to inject personal touches to original experience
| December 12th, 2012 |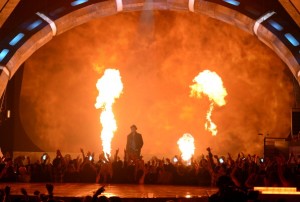 From Software revealed the sequel to Dark Souls at the 2012 Video Games Award show, new hero in unfamiliar settings teased, along with improved server-based multiplayer
The critically and commercially acclaimed action role-playing open-world video game is all set to get a sequel.
During the 2012 Spike Video Games Awards show in Culver City, California, on Friday night, the publisher announced Dark Souls 2 through a new trailer, though it was not until the press conference that more information about the game and the platforms for which it is being developed was revealed.
The game is being developed by From Software, which was responsible for the game's development and release of the previous title in Japan.
Furthermore, the game is being developed for PlayStation 3, Xbox 360 and PC, which will surely come off as a huge relief for the gamers who are getting tired of watching publishers shift their focus to next-generation consoles that are yet to be announced instead of concentrating on the hardware that is currently available in the market.
While both Dark Souls and its spiritual predecessor Demon's Souls were directed by Hidetaka Miyazaki, the reins for the new Souls game have been handed over to newcomers Tomohiro Shibuya and Yui Tanimura, with the former director taking on the supervisory role.
During an interview with Edge, Shibuya conceded that Dark Souls 2 will be more straightforward and understandable, thus making it more accessible than the previous game.
During the press release, the co-director said that the new Dark Souls game has given them an opportunity to evolve the original experience and present fans of the franchise with something fresh.
"This new chapter in the Dark Souls saga presents opportunities for us to drive innovation in gameplay design, develop an entirely new story, and expand the scope of the world in which the player interacts with the game. We have taken these necessary steps with Dark Souls II in order to evolve the overall experience of the Dark Souls series," Shibuya stated.
He did, however, assert that while some significant changes will be introduced to the original experience, the game will be kept close to the true spirit for the game, which is primarily defined through its challenging gameplay.
"Our goal is to surprise and delight our fans with new experiences and plot twists while enticing new players to join our dark journey," he explained.
The original Dark Souls launched for PlayStation 3, Xbox 360 and PC in October last year. The game is regarded as one of the most challenging and therefore fulfilling experience that has ever been offered.
From Software is well aware of the fact that Dark Souls owes its success to its challenging gameplay and therefore is expected to offer just that in the sequel.