Dead Island: Riptide details emerge, adds new character
| September 1st, 2012 |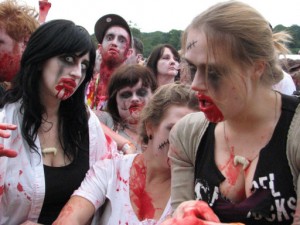 Deep Silver, the publisher of the original Dead Island game, has broken the silence surrounding the sequel to its successful predecessor which takes place on both a ship and another island, featuring a new host of zombies as well as a new playable character.
For the handful of gamers who may not have heard of or played Dead Island, the game was set on an Island 'paradise' before the resort was overrun by zombies and guests, staff and bums became mindless flesh craving zombies.
The game featured both single player and co-op within the same story and instantly garnered a cult following. Dead Island was far from perfect as the game was filled with bugs and glitches, but it was still termed by many as a blast to play.
On the sales front the game did rather well too. In fact, it did well enough to warrant a sequel as Deep Silver are set to release Riptide, the direct successor to the original game.
In fact, the game picks up right where the previous one left off, as a description for Riptide, released by Deep Silver read:
"The survivors of the zombie-apocalypse on the once beautiful island resort of Banoi escaped in a helicopter to the safety of a military ship. When a furious storm hits and the virus suddenly spreads throughout the crew, the nightmare starts all over again, leaving hope drowning in the rising tides."
The description continued by explaining how the new game would be different from the first one.
"Devastated by a monsoon, the island of Palanai is crawling with new zombie mutations. A fifth character with an all-new skill set will join the team, providing much needed support. Additional multiplayer communication features and brand new hub defence missions will test the survivor's team play skills."
It seems Deep Silver is looking to build on the original although many are worried whether the game is more a 1.5 rather than a full blown sequel, as there are concerns whether or not the studio has the ability to develop a full new game on an annual basis.
The questions have been asked of Deep Silver and it will be interesting to see if they can deliver and one can rest assured that if the game lives up to its promise then the developer could be looking at a lucrative IP.
Then again, Dead Island was one of those love it or hate it titles and whether or not it will appeal to a wider audience remains the major test for the game.
One thing that everyone should be looking forward to however, is the trailer for the game. The original Dead Island caused quite a stir with its trailer, which was so right, but so wrong at the same time.