DICE defends announcement of Battlefield 4, no plans to desert Battlefield 3 in near future
| August 27th, 2012 |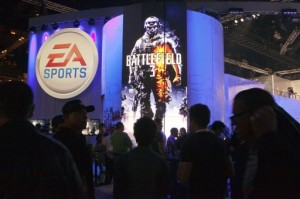 If you are a fan of the popular Battlefield franchise and far from getting done with enjoying the third title in the series, your negative response to the announcement of Electronic Arts working on Battlefield 4 does not come off as an utter surprise.
EA Digital Illusions CE (DICE), however, is finding it hard to understand what the commotion following the unveiling of the next title in the series is all about.
According to EA executive producer Patrick Bach, the reaction to the unveiling of Battlefield 4 is "sad" while further adding that the fans of the series are worried for the wrong reasons.
After EA made an official announcement about the fourth Battlefield game last month, the fans of the series became all bitter about it, convinced that the publisher is already planning on ending its support for Battlefield 3 and shifting focus to the upcoming game. A number of DLC are still in the pipeline for the current Battlefield title, which the fans of the shooter are anxiously waiting for. With the arrival of news that the next title is already in the pipeline, they became concerned about what the publisher and developer plans to do with Battlefield 3.
Bach, however, disagreed with this notion and asserted during an interview with Eurogamer that there was nothing to get worried about as the studio has no such intentions. He said that EA is still committed to supporting Battlefield 3 and plans on working on add-ons for the game. He said that despite all these clarifications, gamers still ended up over-reacting to the announcement of a new Battlefield game. He referred to the reaction as "sad" and hoped that gamers would realise that their concerns are for nothing.
The executive producer went on to point out that a similar reaction was seen during the time of Battlefield 2, but their complaints were eventually removed once they saw the commitment of the company. The same thing is repeating itself and once again people will be convinced that EA is not deserting the current Battlefield game irrespective of what the speculations and gaming gurus claim.
"People tend to forget we built three other Battlefield games in between Battlefield 2 and Battlefield 3," Bach said. "That's a natural reaction. People then think we won't support Battlefield 3, even though we have the Premium version. People know we're working on future expansion packs and we've been very open in explaining what we are doing."
Battlefield 3 came out on the PlayStation 3, Xbox 360 and PC in October 2011 and has not even completed one year before rumours about the new title in the franchise going into development began to circulate. The publisher eventually officially announced that the beta of Battlefield 4 will commence in fall 2012.
Other People Are Reading