DLC packed Gran Turismo 5 Academy Edition announced
| July 31st, 2012 |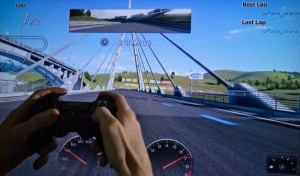 Sony and Polyphony Digital have announced yet another GT5 edition in the works with the Academy Edition, which contains all of the DLC released for the game so far.
Gran Turismo has long remained one of Sony's most reliable series since it released on the first PlayStation console over two decades ago. The series went on to become the racing simulator on the PlayStation 2 as well, with Gran Turismo 4 doing rather well.
However, the series took an agonisingly long leave of absence before making its way on to the PlayStation 3. Even a release on the PlayStation Portable did not do enough to stop fans from demanding a new release in the series.
The game's developers released Gran Turismo Prologue, which in essence was a glorified demo. Having said that it did keep fans interested and satisfied for quite some time before fans resorted to wanting the full version of the game.
When Gran Turismo 5 did hit the market it was far from perfect and a number of updates have been released since then as the game's developer continues to support the game with competitions and additional content as well, despite the game being over a year old.
One of the more popular competitions, which has its own reality show as well, is the GT Academy, which takes the top drivers from the video game and actually sends them to a professional driving school for race drivers. The winner gets to drive for the Official Nissan team as well as a supercar of their own.
In fact, the game's creator, Kazunori Yamauchi, explained that the latest edition of the game, which is basically the same game with all the updates and DLC packed into it, was in honour of the success of the GT Academy.
Kazunori raised the banner for video games being able to make dreams come true when he said, "People can now see that it is possible to make the switch from being a fast gamer to become a real racing driver. We wanted to mark the tremendous success of GT Academy with the very latest version of GT5."
The game's creator went on to promote the game when he said, "GT Academy has captured the imagination of many Gran Turismo fans." Before continuing, "It is exciting to watch what Lucas Ordóñez, Jordan Tresson, Jann Mardenborough and Bryan Heitkotter in the USA, are achieving in their new racing careers with Nissan."
The new version of the game is set for release on the 26th of September and will come with all the Packs as well as the Nissan GTR, which was used during the Nurburgring 24 hour race.
What about the readers though, is the Academy Edition worth a buy or would they rather spend their money on another game? Let us know in the comments section below.