DreamWorks walk away with film rights for EA Games' Need for Speed
| June 24th, 2012 |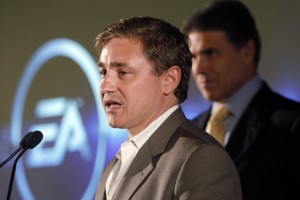 The popular Need for Speed franchise is all set to make its motion picture debut, courtesy of a  recent collaboration between DreamWorks Studios and Electronic Arts (EA) Games.
While it was being speculated that Sony, Warner Bros. or Paramount would get the rights for the renowned racing game film, DreamWorks proved to be a dark horse, managing to beat the competition and walk away with the prize.
The film adaptation of Need for Speed is based on the screenplay written by George and John Gatins, with the latter also serving as the producer of the film. Both the brothers are behind some well known DreamWorks projects, with George being the executive producer of 2010's comedy "She's Out of My League" while John came up with the scripts for 2011 American sci-fi "Real Steel."
Scott Waugh has been given the task of directing the film. Best known for his job in "Act of Valor," Waugh has plenty of experience relevant to the racing franchise project, courtesy of his time with the stunt crews for films such as "The Italian Job" and "Torque," both of which lay a heavy emphasis on cars and fast-paced driving.
The Need for Speed film is slated to make its debut in 2014, with both EA and DreamWorks eager to get the production underway as early as the beginning of next year.
The first-ever Need for Speed motion picture is being described as "fast-paced, high-octane film rooted in the tradition of the great car culture films of the 70s while being extremely faithful to the spirit of the video franchise." With the film to feature cars and drivers that pay little heed to the traffic laws, intense driving and a gripping story, the fans are being promised a thrilling experience.
The founder of DreamWorks Studios Steven Spielberg expressed his excitement about the new project and expressed his gratitude to the EA Games team for selecting his studio for the project.
"I'm excited about getting back into the creative trenches with John and George Gatins and my partners at EA to bring to life an exhilarating script based on an epic videogame that seems to have been made for the movies," said Spielberg. "This is a big piece of business for DreamWorks and we are grateful to Frank Gibeau, Pat O'Brien, Kevin Maher and John and George for choosing us to deliver their goods."
Reportedly, the screenplay for Need for Speed film will not be based on an individual game in the series, but will rather reflect the essence of the entire series.
It would be interesting to see if the joint efforts of DreamWorks and EA deliver a screenplay and story that is original and interesting, or simply come up with a copy of the popular Fast and the Furious series.