EA Easy Studios Oskar Burman resigns after a brief tenure
| July 19th, 2012 |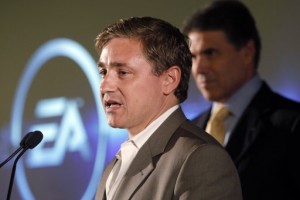 Working at Electronic Arts (EA) has a lot of appeal at the moment, considering the successful run that the company has been having for a number of years now. It seems to have gotten hold of the Hand of Midas, converting anything it touches into gold.
At such a time, it seemed very unlikely to find an employee emptying his drawer and leaving the company for good.
However, the general manager of EA Easy Studios Oskar Burman saw little reason to hold on to his key position in the company and therefore served his resignation, bringing his short tenure to an abrupt end.
Burman had stepped in to fill the void that had been created after the departure of former Easy Studios general manager Ben Cousins, who had departed the company to establish iOS gaming specialist Ngmoco Studio in Stockholm, Sweden, last year.
Ever since taking on the role of a key executive in the company, Burman used his experience in the most effective manner to ensure that the studio kept walking down the path of success.
One of the high-profile products of the studio at the time, Battlefield Heroes, continued to bring the studio success during his tenure. The game featured a free-for-play model, depending on advertisements and micropayments for revenue generation. The model worked quite well for the company and played a huge role in giving EA the confidence to consider it for more of its titles.
After serving his role in the studio efficiently for about a year, Burman decided to give in to his temptation to move out of his comfort zone and move on to a new and exciting thing. Therefore, he used the social networking and micro-blogging website Twitter to make it public that he was no longer employed at EA Easy Studios.
"It's been a helluva fun ride," read his post on Twitter. "Easy and Battlefield Heroes initiated a path that changed EA forever. A path that's now grown to a highway."
He further went on to elaborate his decision to resign from the company and look towards the future, stating that, "One of many goals for me personally when joining EA was to see a large corporation from the inside. Achievement unlocked. So it's time for some change. In August I have a new exciting shiny thing waiting for me."
Despite stating that he will let everyone know about his new position as soon as he feels that it is appropriate to talk about it, he did confirm that he will be remaining in Stockholm for his new job.
EA is currently in the process of transitioning from the traditional business model to free-for-play model and from retailers to a digital channel. It remains to be seen whether the departure of a key executive at such a crucial time takes its toll at the success of the company's current strategic decisions.