EA exec call out hypocritical fans
| November 23rd, 2012 |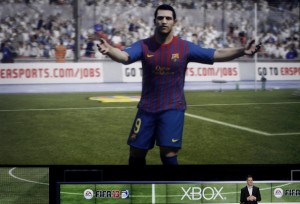 Patrick Soderlund, the Vice President of EA, claims fans are "creating the problem" by not supporting new IPs and sticking to sequels while complaining about a lack of innovation.
While Soderlund may not have been as brash or explicit in his recent statements, he did call out gamers for making the industry the way it is at the moment. To add some context and background, many gamers have been complaining about the lack of innovation and new IPs in the market from the big publishers.
Gamers seem to be fed up of seeing the same names on the cover with only a new number added at the end. The industry is dominated by sequels of well-known and established IPs such as Battlefield, Medal of Honor, Dead Space, Need for Speed, Call of Duty, FIFA, the list goes on and on.
At the same time a number of new IPs have established themselves as well in recent years with Dishonored, The Walking Dead, Journey to name a few, but none have had as profound an impact as the bigger, more established names.
Soderlund explained that developers do innovate and freshen things up but the marketing side sees the games released as sequels because that is the most likely way the publishers can recover their expenses and make some money.
He explained "Battlefield 3 could have been released almost as a new game because there are so many differences (between it and its predecessors)." Before continuing, "but the problem then is that players seem to want sequels, they like the next iteration of the game they love, and even if people say they want new IPs, when new IPs arrive no one cares, they don't buy them, so I still don't understand why people see it as a problem when they're part of, they're creating the problem."
The EA VP could not have expressed his feelings any simpler and in order to avoid the backlash that was sure to ensue from the gaming community added, "I would love for people to buy new IPs and prove with their wallet what they mean, instead of blaming someone else."
Then again, he can expect some reaction from some sections of the gaming community, however, gamers should look at their spending habits as well. Sequels tend to shoot straight to the top of the sales charts while IPs rarely make it that far. There are a few exceptions but those titles end up spawning sequels and complaints from the gaming community.
But what do you think; are the gamers themselves to blame or can publishers put more effort into developing titles? Let us know in the comments section below.
Disclaimer: The views and opinions expressed in this article are the writer's own and do not reflect the editorial policy of wishfree.com in any way.
Other People Are Reading