EA explains DICE plans on future Battlefield games
| November 27th, 2012 |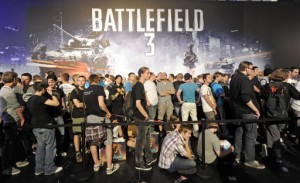 Patrick Soderlund, the vice president of Electronic Arts, explains how they plan on rotating the DICE team to avoid repetition and boredom among the staff.
Battlefield 3 was a massive success for EA, both in terms of sales as well as gaining a firm foothold in the first-person shooter market. The Call of Duty titles had a monopoly when it came to the genre with the Medal of Honor and Bad Company games unable to mount a considerable challenge.
However, EA decided that the time was ripe for a new entry in the core Battlefield series and the game did not disappoint one bit. The multiplayer was an immense hit with its ability to allow players to use land, sea and air vehicles as well as huge maps to accommodate the mobile machines. There were also plenty of maps catering to the needs of those who were looking for some Close Quarters combat.
Battlefield 3 managed to spend more weeks above Modern Warfare 3 in the sales charts, though the latter's record shattering launch period sales meant that Activision's title finished the year ahead of EA's.
As for the next iteration of Battlefield, or rather the next instalment in the series, EA's vice president, Patrick Soderlund explained how they wanted to freshen things up in terms of the development team and ensure that DICE was working on other projects as well and not just Battlefield 4.
He said, "the DICE guys are roughly 300 people in the Stockholm studio; not all of them are working on Battlefield things, and that's intentional, because we don't want to become a Battlefield factory."
Before continuing, "The minute we start saying 'you're going to make a Battlefield game for the rest of your life' they're going to go some place else. So for them to make great Battlefield games there need to be other things for them to do as well."
Soderlund also explained how DICE had a mix of those who wanted nothing more than to work on the Battlefield game as well as developers that moved around within EA's studios on a game to game basis. He explained, "That's why we have people who move around quite a bit. And then obviously we have boatload of people that just want to make Battlefield because they love it."
It will be interesting to see how EA build on Battlefield 3's success. DICE were reported to have asked next generation console developers to allocate as much as 16GB worth of RAM in their next consoles if they wanted to see true leap in both visuals and gameplay. Whether or not they listened remains to be seen.
But what does the reader think; does the Battlefield series need to take another break or not? Let us know in the comment section below.