EA hints at next-gen FIFA title for the PlayStation 4 and Xbox 720
| July 5th, 2012 |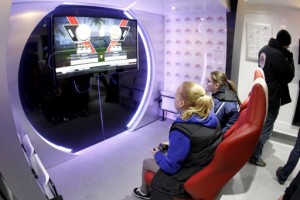 Konami is working on PES for the next generation of home consoles and EA Sports EVP, Andrew Wilson, has teased a next-gen FIFA is in the works and that it will focus on providing integrated experiences from multiple platforms.
It seems as if everyone is talking about the next generation of gaming platforms and how content will be distributed on them without too much talk about the games themselves. However, EA Sports executive vice-president, Andrew Wilson, took a moment to talk about the FIFA series for the next generation of home consoles.
Konami had already announced that they were in the process of developing the first Pro Evolution Soccer game for the PlayStation 4, Xbox 720 and Nintendo Wii U. when asked if EA Sports were doing anything similar with the FIFA series Wilson replied, "I think that would be a fair assumption, yes. We are working diligently."
So a pretty straightforward answer there then, something the gaming community has not been familiar with in recent times with such questions often deflected. Wilson did not give any specific details but that is understandable at this point seeing how hush-hush the next-gen and everything about it from an official standpoint is.
Wilson explained that EA was more than prepared for the next-generation as the studio boasted plenty of experience in moving from one generation of consoles to the other, while at the same time maintaining a their standards in quality as well.
He said, "We learnt a lot through the last transition and we have not rested on our laurels once. We have a responsibility and an obligation to them to continue to deliver great games and in the advent of a new console cycle I think we are very well prepared to deliver against that."
Touching on what the next-gen experience would hold for gamers, Wilson explained that it would not be restricted to just the console but instead would focus on bringing taking the experience to other platforms and devices as well.
He continued, "When we think of the next generation platforms it's about how we engage you while you're in front of the television and while you're away from the television."
The EA Sports EVP, expects the iPhone and other smartphones and tablets to play a major role in the next generation of consoles as well and expects that just owning a game console would not be enough if one wanted to enjoy the full experience of everything that gaming is set to offer in the near future.
One can see that with Xbox SmartGlass and the PlayStation Suite as well, which seem to be laying the foundations for more interaction and connectivity among other devices with consoles.