EA not abandoning Battlefield 3 despite Battlefield 4 announcement
| July 23rd, 2012 |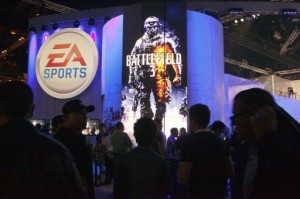 The game's developer, DICE, has stated that it has multiple teams working on the IP to ensure both titles get their due treatment and support Battlefield 3 while its follow up is in development.
Electronic Arts has once again done what has become famous for in the past few months and confirmed a new title after initially leaking it by accident on their digital distribution platform, Origin.
The publisher listed that pre-orders of Medal of Honor Warfighter, the second edition in the reboot of the series, would come with access to the Battlefield 4 multiplayer beta before taking the listing off their site.
However, a few days later the publisher officially announced what it had failed at trying to cover up. This brought about concerns for gamers who thought that the development team at DICE would turn their attention to Battlefield 4 and not give the current edition of the game, Battlefield 3, any 'love'.
Ian Tornay, the community manager of Battlefield 3, issued a statement where he assured fans that "DICE and EA are dedicated to continuing our support for Battlefield 3″.
He went on to state the example of how the studio was still supporting earlier titles as well as the latest ones simultaneously. Tornay said, "Just as we've continued to support and maintain Bad Company 2, we intend to continue providing the best Battlefield 3 experience we can well into the future and past the release of End Game and Battlefield 4."
Tornay explained that DICE had the capability and the capacity to ensure that both titles get their due attention. He said, "There are several teams at DICE. Starting work on Battlefield 4 does not mean that we will be abandoning Battlefield 3 or working any less hard to bring you the best expansions we can."
The community manager also assured fans that all the feedback is taken into consideration and that it has already shaped the direction the next game in the series is taking.
"Your feedback absolutely matters. We will continue to use it to improve BF3 and to make Battlefield 4 even better from day one."
EA has already announced a number of expansion packs and DLCs for Battlefield 3 with Armoured Fury set to release soon.
As for when gamers can expect Battlefield 4 to hit shelves, the community manager did nothing but point out the obvious when he said that the game would release after the beta. We would like to that Captain Obvious for the update at this point.
However gamers will have their attention focused on Medal of Honor Warfighter, which has been developed from top to bottom by Danger Close instead of collaboration with DICE as they did with its predecessor.
Other People Are Reading