EA shows full confidence in Wii U, will reveal great games for the console in future
| August 3rd, 2012 |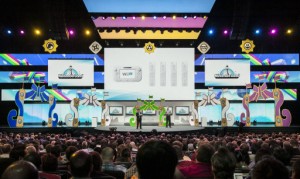 Nintendo's upcoming high-definition console Wii U may not have received an overwhelming response during its presentation at the recent Electronic Entertainment Expo (E3) in Los Angeles, but that has not deterred Electronic Art's (EA) confidence in the new system.
EA chief operating officer (COO) Peter Moore came out to openly state during the company's first quarter earnings that they are very much interested in Wii U and will surely be making announcements regarding games for the upcoming console in the not-so-distant future.
"We're keeping a very close eye on the platform," Moore conceded.
There is no denying the poor response that Wii U received during Nintendo's presentation at E3. This lacklustre response was primarily attributed to the lack of announcements of big titles for the new system. While the company did give fans something to look forward to by revealing a new title from the Mario Bros. franchise as well as the return of the Pikmin franchise, it simply did not turn out to be enough. With no announcements of any Zelda or Metroid game, or even a Mario game that really pushed the boundary instead of offering pretty much the same old experience, the Wii U presentation failed to excite the fans.
EA, however, does not seem worried about the system's performance at E3. Moore revealed his company's faith in Nintendo, asserting that the publisher has learnt to "never underestimate Nintendo, as proven by the last generation."
Wii, predecessor to Wii U, had failed to win the confidence of industry analysts, who believed that the console would fail to compete against the likes of Sony's PlayStation 3 and Microsoft's Xbox 360. Despite the negative reviews, the console went on to be quite successful despite lacking the graphical processing power possessed by its competitors. Acknowledging the success of Wii against all odds, EA is not letting its faith in the company's upcoming console waver despite the mixed, mostly negative, reaction to it.
Moore went on to make EA's faith in Wii U even more visible by stating that the America-based publisher has "great franchises poised to be on that platform," though the company is not ready to raise the curtains off them just yet, while further adding, "We'll probably announce more in the future."
While there is not much known about the plans of EA for Wii U, the publisher has already made it known that Mass Effect 3 will be coming to the new system. The announcement was made during its E3 presentation, while developer BioWare has since then added to the big news by confirming that the extended cut endings of Mass Effect 3 will be integrated in the Wii U version.
Wii U, first entry in the eighth generation of video game consoles, is expected to hit the shelves in the final quarter of 2012.