EA Sports cancels NBA Live 13
| October 2nd, 2012 |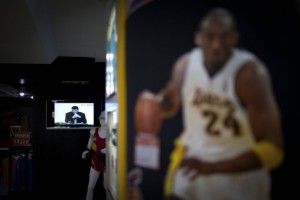 Electronic Arts (EA) Sports is arguably the number one brand when it comes to sports games, but for the last couple of years, it has been struggling with its basketball franchise.
The company has not released a basketball game since 2010 and despite announcing the return of the NBA Live series at the Electronic Entertainment Expo (E3) earlier this year, it has decided to cancel it.
The announcement was made by EA Sports executive vice president Andrew Wilson on the game's official website.
He revealed that the development of the upcoming professional basketball simulator was not going according to their expectations, with the most recent builds making it clear that plenty of improvements that just could not be made in time for the game's release scheduled for this fall.
"Making great games is not easy," Wilson said. "And we're just not there yet on NBA Live 13. Having continued to look at the game over the past few days, it's clear that we won't be ready in October. And rather than launch midway through the season, we're going to sit out the full year and stay focused on making next year's game great. "
Releasing the game next year would surely give the studio ample time to work out the kinks and take care of the shortcomings that have resulted in the cancellation of the highly-anticipated basketball game.
Wilson conceded that the studio really regrets the cancellation of the game as the fans were really looking forward to it, but the difficult decision had to be made because they are committed to ensuring a great experience for the gamers when the latest offering in the NBA Live series does come out.
"This wasn't an easy decision, but it's the right one for our fans," he added. "I hope you'll agree when you're able to play the game next year."
The EA Sports executive noted that the game's graphics have been enhanced significantly, though the gameplay requires a bit of a tuning, which the studio already considers as its biggest priority for next year's offering.
EA had shown off NBA Live 13 at this year's E3, revealing a new graphics engine as well as signature styles for each player.
The fans of basketball games, especially the NBA Live franchise will definitely not be too pleased with EA Sport's decision to cancel the game and asking them to wait for yet another year.
After releasing NBA Live 2010, the studio had renamed the franchise to NBA Elite. After initially delaying NBA Elite 11 indefinitely, it went on to cancel it, thus causing gamers to turn to Take-Two's NBA 2K13 to sate their hunger for a basketball experience.
With NBA Live 13 cancelled as well, it seems that Take-Two's basketball simulator releasing this month will be the sole major basketball simulator out there on the shelves.