EA takes indirect swing at Call of Duty series
| July 7th, 2012 |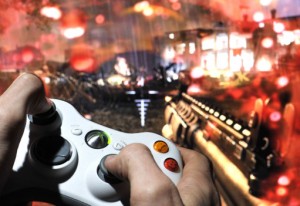 Publishers warns rivals that relying on a single franchise is a major risk and that diversification is the need of the hour as EA prepares to announces 4-5 new IPs.
There comes a situation in everyone's life where they have the opportunity to tell everyone else what to do because they themselves are doing it, while others may not be. Electronic Arts is currently in that position as it urges other developers and publishers to expand their line up of titles and not rely on one single franchise.
It seems that many studios are already practicing what EA are preaching with Sony having an expansive line up of games ranging from first-person shooters (Killzone) to casual party games (LittleBigPlanet) to racing simulators (Gran Turismo 5) among others, such as Naughty Dog's Uncharted series and the upcoming eagerly anticipated title, The Last of Us.
Ubisoft also seem to be following the same policy with series such as Assassin's Creed, Ghost Recon, Driver and the stunning Watch Dogs.
So it is safe to say that EA is not referring to these publishers, which leaves only a handful, including EA's bitterest rivals, Activision, who, barring their partnership with Blizzard, only have the Call of Duty franchise that really prints their money for them.
So it would be safe to say that although Patrick Soderlund, the head of the EA Games label, was talking about EA's ethos and mindset, the message seemed to be directed towards a certain other publisher.
He said, "As game makers, we have to continuously work and launch new intellectual properties into the market." Before continuing, "If we think we can live off of our existing brands that only, I think it will not only be costly, but a short-lived mistake."
EA claims to have 4-5 new IPs in development at the moment for a number of platforms, including for the Nintendo Wii U, which is set to be the first of the next generation consoles to hit the market.
As for EA's own brands which seem to have an annual instalment hitting shelves such as the Need For Speed series, Soderlund believes that "there's a lot of creative juice in brands like Battlefield and Need For Speed and a bunch of our franchises, but I also do think there's a lot of room for new intellectual properties. We are investing in that today, and you will see new IPs from EA and the Games label in the future."
EA is set to release a number of sequels in the upcoming months including Medal of Honor: Warfighter, FIFA 13, Dead Space 3 and Crysis 3, to name a few, all of which are sequels to previous games. However, the publisher is also set to announce a number of new IPs when it feels the time is right.
Other People Are Reading