EA to avoid the mistakes that it made with current-generation consoles
| September 3rd, 2012 |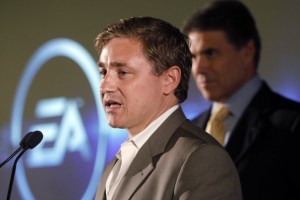 Video game makers have already busied themselves with the preparations for the next-generation consoles, hoping to make a solid impact on it from the moment it arrives in the market.
Electronic Arts (EA) is one of the many publishers who seem prepared to adapt to the upcoming high-end consoles and make a better impression than they did after the current-generation systems arrives in the market.
The head of EA Labels Frank Gibeau admitted during an interview with Bloomberg that his company did not get off to the best of starts when Sony and Microsoft released PlayStation 3 and Xbox 360 respectively.
He blamed the lacklustre start to the lack of technology available to them at that time, thus preventing them from really spreading their wings and doing justice to the potential that these consoles held. The absence of a powerful enough engine stung them hard during the early years, making it a struggle to remain afloat.
Gibeau, however, seems convinced that things would be quite different this time around as they are better prepared to step into next-generation space.
He revealed that EA already possesses the technology that is pretty-much tailor-made for the next-generation consoles. This technology, named the Frostbite engine, is being tipped by EA as a key to their success on the upcoming systems.
"Frankly, we made a couple of mistakes in how we built our technology that was going to build all these games," Gibeau said. "Fortunately, we have a very different approach to technology now with an engine called Frostbite…that's tailor-made for next-gen hardware. So we're in really good shape from a technology standpoint, which is where we had our misstep last time."
There is no doubt that EA eventually managed to bounce back from a unimpressive start and began to offer titles that went on to enjoy an immense amount of both critical as well as commercial success. Irrespective of all the criticism that is thrown at the first-person shooter, the likes of Battlefield allowed the publisher to earn a great deal of profits, with only the likes of Activision matching it due to their Call of Duty franchise.
Even though EA's balance sheets are exactly what the shareholders would like them to be, there is a huge faction of gaming community who are not too happy with the with the publisher is going about its publishers. The strategy adopted by the company of sticking to the successful franchises instead of focusing on innovation is not only angering some of the gamers, but has also led many analysts to believe that such an approach is gradually killing the whole industry.
EA already has plans of stepping out of its comfort zone and launching a wide range of games on the next-generation consoles. Gibeau revealed that the publisher will be releasing around three-to-five new intellectual properties during the first two years of upcoming consoles.