Fake Gran Turismo app sells 100,000 units on Google Play in 24 hours
| July 23rd, 2012 |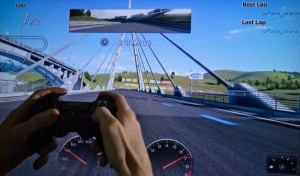 Sailfish Games, the developers of the fake Gran Turismo game, have stirred up quite a controversy after releasing a game with the same name as the popular PlayStation racing simulation series.
Recent developments on Google Play, formerly known as the Android Store, have put the platform under further scrutiny as a game developer managed to make quite a bit of money by selling a game that borrowed the name of a popular PlayStation racing series without Sony or Polyphony Digital's permission.
Sailfish Games released a racing title for Android powered devices titled Gran Turismo, which just so happens to be one of Sony's exclusive IPs. The PlayStation version was in development for over five years and the game's developers, Polyphony Digital, continue to support the game with updates and additional content despite the game being over a year old.
The app however, has not been reported to contain any malware, viruses or phishing software of any sort but instead is a full-fledged racing game complete with car models and tracks. In fact, the game has received rather high ratings and review scores, which many deem is not bad for a title that shares the same name as an existing IP.
For those who do not know what an IP is it basically stands for Intellectual Property and is similar to a copyright. Basically everything that comes under the IP umbrella is the property of the developer or the publisher; the name, the characters, the universe and everything in it belongs to the party that owns the IP.
Other studios cannot create titles or content set in the same universe as the IP belongs to a certain party. If a studio does wish to make anything related to or set in the universe then they have to take permission and reach an agreement with the owner of the IP.
However, in this case the Gran Turismo was used without giving any notice to Polyphony Digital or informing them in any way meaning, that despite the game being received positively by the gaming community, it is pretty illegal.
What impresses is the fact that the game has been downloaded over 100,000 times in its first day of release and this should alert both Sony and Polyphony Digital to the potential of developing a Gran Turismo game for Smartphones.
Gaming on smartphones has grown exponentially in the past few years with over a billion downloads taking place just last year. The market is set to grow in the near future as Smartphones and tablets begin to advance technically at blistering rates.
It may not be too long before gaming consoles are replaced by tablets and smartphones as the most popular platform for gaming.
Other People Are Reading