Far Cry 3 can compete with Halo 4, Black Ops 2 – Ubisoft
| October 23rd, 2012 |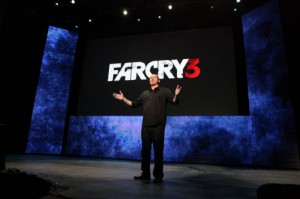 The publisher is not worried about the competition from other titles as it defends its decision to delay the game as it is now set to release between two of the most eagerly anticipated shooters of the year.
Ubisoft has made a habit of surprising everyone over the past few years as they did with the mind blowing trailer for Watch Dogs at E3 this year, and also the year before when they raised the curtain on one of the most impressive trailers in E3 history. No one can forget the 'do you know the definition of insanity' trailer from E3 2011, where the world was introduced to Vaas and Far Cry 3.
Well, the hype has only increased and the game was supposed to have hit shelves already, though a delay meant that it had to be pushed back to a later date, a date which put the game after titles such as Activision's Black Ops 2 and Microsoft's Halo 4.
However, Henri Guay, the brand manager at Ubisoft, believes that the game can stand up and hold its own, because it provides an experience that no other title is at the moment.
He explained, "Far Cry has always been a little bit off the map in terms of the offer that it gives,"
Explaining the reasons behind the delay, Guay elaborated, "There were a couple of things we were talking about cutting from the game that I just couldn't bear to take away from the consumer. So the reality is that we have made a very strategic choice."
At the same time, the brand manager is under no illusions that they do face some serious competition but he also believes that there is a section of gamers that want something different as well. "People are going to continue to play Call of Duty and people are going to look for experiences that give them something a little bit different. We feel we're in a comfortable spot."
Guay concluded by explaining how the game was bigger than its predecessors and that the studio has done all it could in order to ensure that the game was everything that gamers expect it to be and then some.
"Far Cry 3 is a big game and there's an expectation. We wanted to make it as great as it absolutely can be."
So what about the readers; will you be picking up a copy of Far Cry 3 this holiday season or will you be spending your hard earned, or your parents hard-earned money, on Black Ops 2, Assassin's Creed 3, Halo 4 or Medal Of Honor: Warfighter or different combinations?
Let us know your shopping plans in the comments section below.