Far Cry 3 set to get HUD customisation option
| December 11th, 2012 |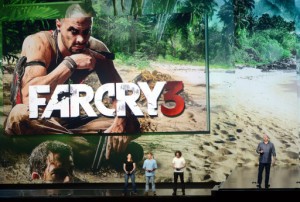 Ubisoft is currently working on a patch that will allow players to toggle various elements of the Heads Up Display in the game on and off after taking into consideration all the feedback from fans.
Ubisoft seems to be on a roll with the publisher seeing success at every turn and with almost everything they touch turning into gold, metaphorically speaking of course. The studio has seen Assassin's Creed III smash Ubisoft's previous sales records while at the same time, ZombiU is being hailed as the main reason core gamers should own a Nintendo Wii U console.
At the same time, Ubisoft's extra investment in the Far Cry series' third instalment has reaped the studio many rewards. The game remains in second place of the United Kingdom's top ten weekly sales charts, second only to Call of Duty: Black Ops 2 and is continuing to sell well after an impressive start.
However, rather than resting on their laurels, the developers of the game are tinkering and tweaking the experience for its players and are proactively considering fan feedback. It seems the first result of this will be the option for players to alter their HUD and what they wish to see on screen.
Ubisoft released the following statement:
"Based on feedback from both press and fans, the Far Cry 3 production team is working on a patch that will allow you to toggle most HUD/UI elements based on player preference."
The statement continued, "The patch will also avoid issues encountered in the .dll hack that might create a mission walkthrough break (missing QTE prompts, critical information, etc;)"
In the end the studio took a moment to thank the fans before signing off, "The team is excited about how the Far Cry 3 community and fans of the game are enjoying themselves, and finding new ways to experience the Rook Islands. More news will be coming on the patch shortly…"
Ubisoft seems to be taking the current period in the industry extremely seriously as the publisher looks to expand its presence across every platform. Whether its console gaming or portable, mobile gaming or free to play, Ubisoft has a title on offer and one can expect a similarly aggressive strategy when the next generation consoles from Sony and Microsoft are announced.
In the mean time though the likes of Assassin's Creed 3, Far Cry 3 and ZombiU are doing the business but one has to wonder just how long everyone will have to wait for more news about Watch Dogs. The game blew everyone away at E3 and has since gone under the radar. One can expect more on the game during E3 next year, but here's to hoping there is some new before then.
Other People Are Reading