FIFA 13 demo dated for September, Match Day feature detailed
| August 17th, 2012 |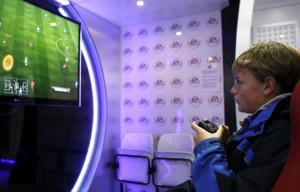 EA Sports has announced that the demo of their upcoming title is set for release on the 11th of September, 14 days before the full game is released.
The next instalment in one of the gaming world's longest running annual release titles, FIFA 13, is nearly upon us and in true EA Sports tradition, the demo for the game is also set to help ease the wait the fans have to endure.
FIFA 12 was the best-selling sports title of all time and was hailed by both critics and gamers alike. In fact, the game was voted the Best FIFA title in history by many and the game outsold its bitter rival, Konami's Pro Evolution Series, by a ratio of 25 to 1.
FIFA 13 will have quite a challenge building on the success of its predecessor but the game's developers hope that the new features will be enough to ensure that the game lives up to expectations.
The demo for the game will be available for download on the 11th of September and one can expect quite a lot of traffic once the demo does go live.
One of the new features introduced is Match Day, which brings the game one step closer to the real world of football as the in-game commentary will have updates on what is happening in the world of football from around the globe.
EA announced: "Football Club Match Day will drive real-world news ripped from the headlines around the world into FIFA Soccer 13. Real-world drama such as injuries, suspensions, team form, and media gossip will be reflected through in-game commentary and play out in-game."
The announcement continued, "through EA SPORTS Football Club Match Day, fans will be following the heartbeat of soccer and their favourite club. Real-world fixtures and upcoming clashes of their favourite club in the top leagues will enable them to play right along with the beats of the season."
The feature does sound intriguing and has plenty of depth to it, but whether it is one that will become part of the long term FIFA formula or fade away after FIFA 13 remains to be seen. One thing is for sure and that is if Match Day can have the same impact as Head-to-Head seasons did in FIFA 12, then it may just go on to become a mainstay.
FIFA 13 will release at the end of September with the United States getting the game on the 25th, while the United Kingdom and the rest of Europe will have to wait until the 28th before they can get their game on.
However, this time around Pro Evolution Soccer does to seem to be making a strong comeback, but what will the reader be playing this year, FIFA 13 or Pro Evo 13? Let us know in the comments section below.
Other People Are Reading