FIFA 13's Wii U features detailed – 2
| November 2nd, 2012 |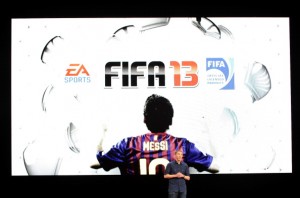 Part 2: EA Sports seems to be giving the Wii U GamePad the same treatment it gave to the PlayStation Vita version of the game albeit with much more depth than its portable console counterpart.
The ability to use the touch-screen to shoot and pass seems to be taken right out of the PlayStation Vita's version of FIFA 13, which isn't a bad thing and one can expect it to be more refined on the Wii U but there are a number of other features that demonstrate the ability of the GamePad to truly provide new ways to enjoy the game.
"Take control of a specific defender by tapping on the player using the touch screen." And then in order to get the defending bit going players simply "use the touch screen to man mark or tackle opponents simply by tapping on the attacking player." So much for tactical defending then.
At the same time players can also make changes on the fly and have complete control of the match in a number of ways.
Players can make "key strategic real-time decision using the GamePad." This includes the ability to "make half-time team talks and try to motivate key players. Gamers can chose to manage the team in all of the main game modes."
Another interesting feature is how players can play co-op. "One player manages while up to four other play in Co-op Mode." It should make for some interesting matches as well as plenty of trolling, expect to see friends substituted or strikers switched to defensive positions just for the heck of it.
Another feature is the Manager Hub, which basically allows players to manage the club using the GamePad. All the statistics and information need about a player or a team can be found by the touch of the screen and it should appeal to those who look at the more tactical side of their team rather than just playing the more highly rated stars all the time.
It seems EA has put some effort into the title but the real test of the pudding will come when the game makes its way into the hands of the gamers.
FIFA 13 is already the best-selling sports title in history and one can expect that record-breaking sales figure to go even higher once the Wii U version is released.
The main question remains, will it come with all the bugs that have plagued the PlayStation 3, Xbox 360 and PC versions of the game?
But what do the readers think about the game's prospects? Are they solid features that will add to the experience or just gimmicks that will lose their appeal sooner rather than later? Let us know in the comments section below.
Other People Are Reading