First gameplay footage of Chris Roberts' Star Citizen hits internet
| November 14th, 2012 |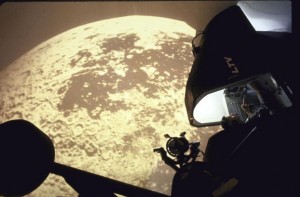 Even though the release of Chris Robert's Star Citizen is still at least two years away, fans anxious to get a rough idea of what is headed their way have their wish fulfilled as the first in-game footage of the space trading and combat simulator has been revealed.
Posted on what is proving to be a successful Kickstarter page of the game, the video shows off the artificial intelligence (AI) for the high-end space simulator.
The video has been described by Roberts as nothing more than a rough idea and does not really represent anything that is final.
He conceded that there was still plenty of work to be done before the game could even be considered close to its final look, which includes plenty of visual effects that are notably missing from the recently uploaded AI gameplay video.
"The laser effects, explosions are all placeholders and there will be significant work done here, as well as some very cool shield effects I have cooking up in the background," Roberts said. "My goal with the visual effects is to use a lot the techniques and looks used in film work, which are now possible with DX11 and modern day PCs."
Roberts further went on to add that the AI being developed for Star Citizen is by far the most sophisticated one that he has ever attempted and the credit for this goes to the availability of highly advanced technology.
With critically acclaimed games such as Wing Commander and Freelancer on his portfolio, Roberts has earned himself a reputation of being one of the best, if not the best, when it comes to space simulators for PC.
Therefore, the excitement surging through the fans of the genre did not come off as a surprise when the announcement regarding the development of Star Citizen was made.
Looking to retain creative freedom, Roberts has opted to go for private funding instead of attaching his development studio Cloud Imperium Games Corporation to some big publisher.
Roberts had further explained that big publishers are not too comfortable with investing in unique ideas and instead prefer to stick to ideas that have already proven themselves to be successful, which takes its toll on innovation in the industry.
Taking these considerations into account, he deemed it most appropriate to go for private funding, which included raising funds through the game's official website as well as making use of the crowd-funding website Kickstarter.
Aiming for the target of $2 million, Cloud Imperium Games has already gone beyond the $1 million mark and is expected to comfortably get past its target in a few weeks.
Star Citizen is being developing exclusively for high-end PCs and is expected to release in 2014-2015.
Other People Are Reading