Free-to-play Spartacus Legends to hit XBLA and PSN in 2013
| September 11th, 2012 |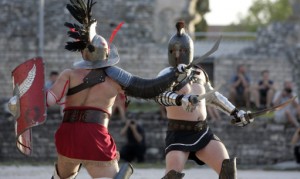 Free-to-play games are becoming increasingly common in recent times, with more and more publishers beginning to show their confidence in the contemporary model.
In an announcement at its Digital Days event that went down in Europe a couple of days ago, Ubisoft announced that its upcoming fighting game Spartacus Legends will be launching as free-to-play on PlayStation Store Network (PSN) as well as Xbox Live Arcade (XBLA) in 2013.
Developed by Kung Fu Factory, the game is based on the popular Stars TV series Spartacus, a show that tells the story of a warrior who leads the uprising of slaves against the Roman Republic. The series is particularly known for its strong violence, strong sexual content and use of explicit language, which has resulted in it becoming restricted to mature audience only.
Spartacus Legends will see players taking on the role of Spartacus, Crixus, or a gladiator that they have created themselves as they combat against some of the roughest and grittiest warriors to earn respect and fame. Out of combat, players will be able to develop their warrior by getting him stronger equipment. As the "fame" of the warrior reaches a higher level, he will have access to stronger weapons and armour.
While the game itself is free, the in-game equipment will require players to pay a small fee to get access to high-end weapons and armour. This particular aspect of the game has already begun to receive immense amount of criticism from the fans, as seen in the comments section on various websites covering the news on Spartacus Legends.
Majority of the gamers believe that the overall experience of the game will be greatly hurt by what they consider to be a pay-two-win model. Instead of earning the equipment through hard work, having to take regular breaks from the gaming session to pull out the credit card to get hands to have a better chance of winning a fight is hardly the sort of entertainment they are searching for.
Shifting to the free-to-play mode may have a number of advantages, but the challenges it brings for the developers and publishers are quite strong. One of the main things that need to be looked into is how a particular in-game content can add value to the overall experience and whether it would have a high enough appeal to make a gamer pay for it. If that particular item or character is too strong or give premium gamers an edge over other players, then the latter would gradually see little point in sticking to the game despite it being free-to-play.
It remains to be seen how Ubisoft and Kung Fu Factory handle the premium content. The price set by the publisher for the equipment will also play a crucial role in deciding the fate of the game.